Challenges and opportunities of bovine milk analysis by mass spectrometry
Clinical Proteomics
2016
13:8
Received: 24 December 2015
Accepted: 18 March 2016
Published: 19 April 2016
Abstract
Bovine milk and its products (e.g. cheese, yoghurt) are an important part of human diet with beneficial effects for all ages. Although analyses of different milk components (e.g. proteins, lipids) pose huge challenges, the use of mass spectrometric (MS)-based techniques is steadily improving our understanding of the complexity of the biological traits that effect milk yield and its components to meet the global demand arising from population growth. In addition, different milk constituents have various applications in veterinary research and medicine, including early disease diagnosis. The aim of the review is to present an overview of the progress made in MS-based analysis of milk, and suggest a multi-pronged MS strategy to better explore different milk components for translational and clinical utilities.
Keywords
BovineMilkProteomicsLipidomicsMass spectrometryLivestock
Introduction
Agriculture, a pivotal sector for ensuring food and nutritional security, is undergoing a radical change in India and at the global level. Conventional crop and animal production methods are facing enormous pressure related to increased grain and animal production to meet the growing demand of population increase [1]. Although Indian agriculture performed better than expected during the global food crisis in 2008, the agriculture sector needs to envision future challenges as potential opportunities to make it more sustainable to provide food security and alleviate poverty [2].
In India, livestock as a sub-sector of agriculture contributes significantly to the economy by ranking first in world milk production, as well as producing vast amounts of milk products, meat, eggs, wool, hide and skin [3]. Livestock in spite of sustained pressure from climate change and increased demand of animal protein has consistently contributed significantly to the agricultural gross domestic product. For example, animal husbandry involves approximately 5.5 % of the total work force in the country, as well as providing gender equity and women empowerment [4].
There is no program in place anywhere in the world including India that considers appropriate husbandry practices to develop milk as functional food by altering its individual components which has been previously reported to have significant association with genotype [5] and environmental factors [6]. Therefore, to keep up with the demand and supply chain of animal products, it is critical to understand the challenges for improving animal health, production, and their welfare by adopting better husbandry and management practices [7]. In particular, early and quick disease diagnosis, especially at farms is a huge challenge for veterinary physicians.
The advancement of proteomics technology has enabled researchers to analyze different body fluid such as milk [8] saliva [9] and urine to better understand etiology and pathogenesis of disease. Although the use of mass spectrometry (MS)-based proteomics in translational veterinary research is steadily increasing, information about the frequency, onset and progression of different markers (e.g. proteins, lipids) due to exogenous (e.g. season) and endogenous (age, lactation) factors which influence the dynamic nature of different milk components have not been sufficiently explored. Thus, it is critical to consider these normal differences in expression when searching for clinically relevant, disease specific markers. In this review, we provide an update on the progress made in the application of MS-based proteomics over the last 5 years in bovine milk analysis, as well as point out the possible challenges and considerations for improving livestock production and management.
Alternate diagnostic body fluid
Historically, blood has been used as the first choice of body fluid for analyzing changes in its constituents associated with pathophysiological conditions. However, due to the limitations of analyzing low abundance proteins in blood due to its complex nature, it is imperative to explore alternate diagnostic fluids such as milk, urine, and saliva to reflect local or systemic illness. In addition, due to the variability of the sources and composition of body fluids, different approaches are required to compile a comprehensive catalogue of potential markers. To this end, MS-based proteomic methods have great potential because they are unbiased and require no prior knowledge of fluid composition. In the context of this review, milk as an alternate diagnostic fluid including its different components has been discussed with respect to its diverse applicability in livestock proteomics.
Mass spectrometry-based proteomic approach for sample analysis
Sample preparation and identification
Sample preparation is the most critical and challenging step in proteomics. The sample must be cleaned-up and/or fractionated at the protein or peptide level to unmask medium and low-copy proteins to identify potential markers. Along these lines, different depletion strategies have been used to separate abundant proteins in cow's milk [21, 118] and urine [10] samples. Subsequently, 2DE has been mainly used to document changing patterns of protein followed by their identification by MS, however, it is limited due to its dynamic range and poor reproducibility [167, 168].
Qualitative protein identification
Protein identifications can be carried out by tandem mass spectrometry (MS/MS) using TOF/TOF analyzer, with peptide fragmented by post source decay [169] or collision induced dissociation (CID) [170]. However the generation of singly charged peptides by MALDI-TOF leads to preferential cleavage of the peptide backbone with loss of sequence information [171]. This kind of fragmentation may not be a problem for protein identification using adequate software analysis, but can lead to ambiguous protein identification by de novo sequencing. Alternatively, tandem mass spectrometry can be carried out for protein identification using hybrid mass analyzers, such as a combination with quadrupole-time of flight (Q-TOF). In this method, C18 is interfaced as on-line reversed-phase (RP) microcapillary liquid chromatography (LC) electrospray ionization (ESI) [172] or nano-ESI [173] greatly increasing sensitivity, efficiency, and analysis of small sample volume [174]. In this instrument, fragmentation occurs in a predictable manner between the amino acids bonds, enabling identification using software, such as MASCOT [175] or SEQUEST [168]. LC–MS/MS generates multiply charged peptide ions which readily fragment generating high quality and informative tandem mass spectra for confident protein identification [176].
For large scale proteomic analysis, multidimensional protein identification technology (MudPIT) holds great potential. In this technique, a strong cation exchange resin is in line with the RP column. Digested peptides are eluted onto the column at low pH facilitating binding to the cation exchange column and subsequently salt steps are used in an incremental manner to elute peptides onto the C18 RP column for further analysis by MS.
If the above techniques fail to provide any positive protein identifications, de novo sequencing followed by BLAST searching provides an alternative identification strategy [
177
,
178
]. By this analysis the amino acid sequence is obtained by evaluating the mass difference between two adjacent y- and b-ion series in the fragmentation spectra of the precursor ion [
173
]. Alternatively, specialized software can be used to create amino acid sequence to interpret tandem mass spectra of peptides [
178
]. Figure
2
shows possible ways of sample analysis to maximize confident protein identification.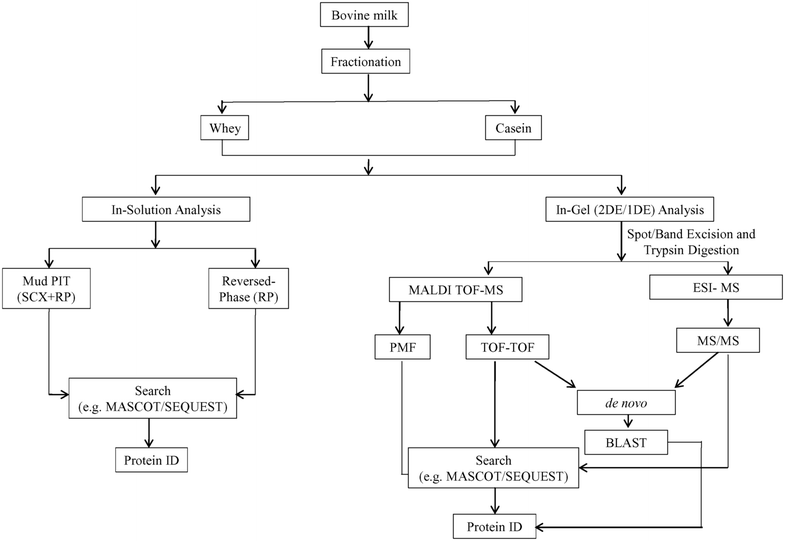 Quantitation
In addition to protein identifications, MS can be used to quantify differential expressed proteins between two different conditions (healthy vs. disease) either by a label-free or a labeled approach (incorporation of stable isotopes). To date, a number of studies have been performed to quantify milk proteins. For example, mastitis milk proteins were quantified either using a label-free approach [179, 180], or by isobaric tags for relative and absolute quantification (iTRAQ) [49, 50, 118, 142]. In contrast, limited studies have been performed using other labeling techniques such as peptide labeling via metabolic incorporation into cell or tissue culture (15N/14N), stable isotope labeling by amino acids in cell culture (SILAC), amino group labeling using isotope-coded affinity tags (ICAT), tandem mass tags (TMT) and enzymatically catalyzed incorporation (18O labeling).
For targeted quantification of potential markers, although techniques such as ELISA and Western blots are most commonly used, there are limitations including availability, sensitivity and specificity of antibodies for proteins, and multiplexing immunoassays in large animal populations [181]. However, to overcome these limitations, targeted quantification of markers, either by label-free or isotope labeling, can be performed using triple-quadrupole mass spectrometers by single reaction monitoring (SRM) or multiple reaction monitoring (MRM).
Conclusion
The dairy industry in India has progressed steadily and is the world's largest milk producer. More recently, there has been an increase in awareness of consumers about milk quality from a health perspective, while little attention has been paid to changing individual constituents due to environmental and physiological factors for enhanced beneficial effect. These compositional variations add to the complexity and diversity of different milk components providing a compelling reason to investigate their changes in abundance for their beneficial effect and markers for early disease diagnosis for timely therapeutic intervention and subsequently diverting attention to better management practices.
From a MS-based proteomic analysis perspective, it is critical and imperative for researchers to combine strategies to increase the likelihood of maximizing positive protein identification. For example, a high-throughput approach for discovery will enable analyses of samples collected from much larger populations followed by a targeted quantification to validate potential markers. Taken together, results of a number of early studies on milk proteomics have reported promising results and also present a challenge to further develop effective proteomic tools for improving livestock productivity and fertility.
Declarations
Authors' contributions
AV and KA wrote the manuscript. Both authors read and approved the final manuscript.
Acknowledgements
This work is supported by Department of Biotechnology (DBT), Government of India; Grant No. BT/PR12721/AAQ/1/618/2015 (KA). AV is supported by DBT, Government of India fellowship (DBT/2014/IITR-R/110). We gratefully acknowledge Dr. Peter Burbelo, Dental and Craniofacial Institute, National Institutes of Health, USA, for critical proof-reading of the manuscript. We also thank Narender Kumawat for assistance in making figure one.
Competing interests
Both authors declare that they have no competing interests.
Open AccessThis article is distributed under the terms of the Creative Commons Attribution 4.0 International License (http://creativecommons.org/licenses/by/4.0/), which permits unrestricted use, distribution, and reproduction in any medium, provided you give appropriate credit to the original author(s) and the source, provide a link to the Creative Commons license, and indicate if changes were made. The Creative Commons Public Domain Dedication waiver (http://creativecommons.org/publicdomain/zero/1.0/) applies to the data made available in this article, unless otherwise stated.
Authors' Affiliations
(1)
Department of Biotechnology, Indian Institute of Technology Roorkee, Roorkee, India
Copyright
© Verma and Ambatipudi. 2016