Proteomics in India: the clinical aspect
Clinical Proteomics
2016
13:21
Received: 23 December 2015
Accepted: 12 August 2016
Published: 5 November 2016
Abstract
Proteomics has emerged as a highly promising bioanalytical technique in various aspects of applied biological research. In Indian academia, proteomics research has grown remarkably over the last decade. It is being extensively used for both basic as well as translation research in the areas of infectious and immune disorders, reproductive disorders, cardiovascular diseases, diabetes, eye disorders, human cancers and hematological disorders. Recently, some seminal works on clinical proteomics have been reported from several laboratories across India. This review aims to shed light on the increasing use of proteomics in India in a variety of biological conditions. It also highlights that India has the expertise and infrastructure needed for pursuing proteomics research in the country and to participate in global initiatives. Research in clinical proteomics is gradually picking up pace in India and its future seems very bright.
Keywords
Clinical proteomicsIndian academiaBiological researchTranslation
Background
The beginning of the twentyfirst century, saw the birth of a new technology called 'proteomics' that emerged as a highly promising bioanalytical technique in various aspects of applied biological research. Though India could not play a role in human genome sequencing projects, the country has emerged as one of the frontrunners in global proteomics research and has come a long way from where it was, probably a decade ago [1–3]. The importance of proteomics research was realized when many Indian researchers initiated identifying proteins critical to the pathophysiology of various diseases. However, the actual momentum gained subsequently when several laboratories were successful in arranging sophisticated facilities for efficient proteome separation and detection using tissue as well as liquid samples. This was supported further with national efforts for network building and collaboration amongst various laboratories with a primary objective for early detection, diagnosis, and a way to therapeutics for common as well rare diseases.
Although the development of proteomics research in India was rather slow at the outset, the last decade or so has seen a dramatic expansion in the proteomics community [4]. Presently, there are over a hundred research laboratories in approximately 80 academic or research institutes across India involved in various proteome-level investigations. Thus it may safely be said that in the past few years, proteomics has emerged as a powerful tool for varied biological investigations in the country. Proteomics is also becoming an attractive method of choice for the identification and development of new biomarkers and potential therapeutic targets. Increasing financial and infrastructure support from the government is likely to take proteomics research in the country to new heights.
Proteomics is a scientific approach that attempts to completely characterize the proteome (or subproteome) of a cell or tissue. Various technologies can be employed during the three major steps involved in proteomic analysis: sample preparation, separation of proteins or peptides, identification and characterization of proteins, and the technologies can be mixed and matched to meet the needs to answer any particular biological or clinical question. The advancement of proteomic technologies now addresses the challenges associated with the pathophysiology of various diseases. Proteins are most widely affected in disease, response and recovery. The most important application of proteomics is believed to be discovery of disease biomarkers and drug targets which can lead to designing of products aimed at diagnosis and treatment of diseases like cancer, cardiovascular diseases, obesity and type 2 diabetes. This application of proteomic tools and knowhow to the field of medicine is called clinical proteomics (Fig.
1
). It encompasses the translation of proteomic detection technologies and strategies towards the production of diagnostics and therapeutics for the direct improvement of human health [
5
]. Therefore, clinical proteomics methods hold special promise for the identification of new biomarkers that might improve disease staging, risk stratification, and the prognosis and treatment of diseases. The following review intends to look into the current developments and shortcomings in India's clinical proteomics scene and the problems faced by the Indian scientific community in translational research. The review also deals with next generation proteomics methods and different proteomics databases developed in India.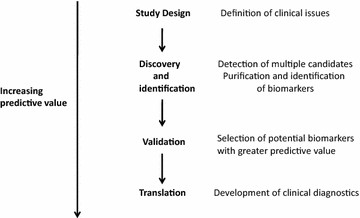 Conclusion
Clinical proteomics is yielding some fruitful results for Indian proteomics researchers utilizing state-of-the-art experimental and analytical methodologies. All these will benefit the proteomics community in the long run. However, these efforts are not enough for the benefit of the huge Indian patient population. Despite some success stories, India is still some distance away from successful translation of laboratory findings into clinical practice. India needs focused, sustained policies to promote translational research through specialized mega projects. Establishment of tissue repositories or registries is the need of the hour. The country's overall healthcare infrastructure and medical informatics system also needs both public and private sector support on a long term basis so as to facilitate more effective translation studies. Tie-ups with commercial companies to facilitate technological developments will be necessary. At present, most of the proteomic investigations are arising from individual labs in research institutes of national repute. Almost all the studies are in the discovery phase. Collaboration between scientists and clinicians will facilitate the execution of well-designed multi-institutional and multi-centric studies aimed at addressing the relevant health problems unique to India, evaluating disease outcomes and their validity.
Abbreviations
2DE:

two–dimensional electrophoresis
2D DIGE:

two-dimensional difference gel electrophoresis
ACTREC:

Advanced Centre for Treatment, Research and Education in Cancer
AIIMS:

All India Institute of Medical Sciences
BHU:

Banaras Hindu University
CAD:

coronary artery disease
CCMB:

Centre for Cellular and Molecular Biology
CDRI:

Central Drug Research Institute
DIPAS:

Defence Institute of Physiology & Allied Sciences
DOQCS:

Database of Quantitative Cellular Signaling
DRDO:

Defence Research and Development Organization
EGFR1:

epidermal growth factor receptor 1
ELISAs:

enzyme linked immunosorbent assays
HPRD:

Human Protein Reference Database
ICGEB:

International Centre for Genetic Engineering and Biotechnology
IGIB:

Institute of Genomics and Integrative Biology
IICB:

Indian Institute of Chemical Biology
IICT:

Indian Institute of Chemical Technology
IISc:

Indian Institute of Science
IIT:

Indian Institute of Technology
IMTECH:

Institute of Microbial TECHnology
IOB:

Institute of Bioinformatics
LC–MS:

liquid chromatography–mass spectrometry
LC–MS/MS:

liquid chromatography–tandem mass spectrometry
MALDI-TOF MS:

matrix assisted laser desorption ionization-time of flight mass spectrometry
MI:

myocardial infarction
MRM:

multiple reaction monitoring
NCBS:

National Centre for Biological Sciences
NCCS:

National Centre for Cell Science
NCL:

National Chemical Laboratory
NIPER:

National Institute of Pharmaceutical Education and Research
NIRRH:

National Institute for Research in Reproductive Health
PepBind:

Peptide Binding Protein Database
PGIMER:

Postgraduate Institute of Medical Education and Research
R&D:

Research and Development
SEDB:

Structural Epitope Database
SINP:

Saha Institute of Nuclear Physics
TMAs:

tissue microarrays
VPDB:

Viral Protein Structural Database
Declarations
Authors' contributions
SM conducted experiments, analysed data and drafted the manuscript. AB conceived the study, participated in the design and coordination and helped drafting the manuscript. Both authors read and approved the final manuscript.
Authors' information
Arun Bandyopadhyay is working as a Senior Principal Scientist in CSIR-Indian Institute of Chemical Biology, Kolkata. His team is involved in clinical proteomics research for understanding pathophysiology of coronary artery disease and rheumatic heart disease. His group has made valuable contribution on rheumatic heart disease which is a major health concern in India and is prevalent among people of poor socioeconomic strata. Using human sample this group has been successful in finding a circulatory marker which might be useful to predict the severity of rheumatic valve disorders.
Competing interests
The authors declare that they have no competing interests.
Funding
This work is supported by the grants from CSIR new Delhi (MLP113 and BSC 0118).
Open AccessThis article is distributed under the terms of the Creative Commons Attribution 4.0 International License (http://creativecommons.org/licenses/by/4.0/), which permits unrestricted use, distribution, and reproduction in any medium, provided you give appropriate credit to the original author(s) and the source, provide a link to the Creative Commons license, and indicate if changes were made. The Creative Commons Public Domain Dedication waiver (http://creativecommons.org/publicdomain/zero/1.0/) applies to the data made available in this article, unless otherwise stated.
Authors' Affiliations
(1)
Cell Biology and Physiology Division, CSIR-Indian Institute of Chemical Biology, Kolkata, India