Characterizing the normal proteome of human ciliary body
Clinical Proteomics
2013
10:9
Received: 30 April 2013
Accepted: 16 July 2013
Published: 1 August 2013
Abstract
Background
The ciliary body is the circumferential muscular tissue located just behind the iris in the anterior chamber of the eye. It plays a pivotal role in the production of aqueous humor, maintenance of the lens zonules and accommodation by changing the shape of the crystalline lens. The ciliary body is the major target of drugs against glaucoma as its inhibition leads to a drop in intraocular pressure. A molecular study of the ciliary body could provide a better understanding about the pathophysiological processes that occur in glaucoma. Thus far, no large-scale proteomic investigation has been reported for the human ciliary body.
Results
In this study, we have carried out an in-depth LC-MS/MS-based proteomic analysis of normal human ciliary body and have identified 2,815 proteins. We identified a number of proteins that were previously not described in the ciliary body including importin 5 (IPO5), atlastin-2 (ATL2), B-cell receptor associated protein 29 (BCAP29), basigin (BSG), calpain-1 (CAPN1), copine 6 (CPNE6), fibulin 1 (FBLN1) and galectin 1 (LGALS1). We compared the plasma proteome with the ciliary body proteome and found that the large majority of proteins in the ciliary body were also detectable in the plasma while 896 proteins were unique to the ciliary body. We also classified proteins using pathway enrichment analysis and found most of proteins associated with ubiquitin pathway, EIF2 signaling, glycolysis and gluconeogenesis.
Conclusions
More than 95% of the identified proteins have not been previously described in the ciliary body proteome. This is the largest catalogue of proteins reported thus far in the ciliary body that should provide new insights into our understanding of the factors involved in maintaining the secretion of aqueous humor. The identification of these proteins will aid in understanding various eye diseases of the anterior segment such as glaucoma and presbyopia.
Keywords
Aqueous humor
Proteome discoverer
Protein biomarkers
Ciliary processes
Non-pigmented epithelial layer
Pigmented epithelial layer
Cyclitis and glaucoma
Background
The ciliary body, iris and choroid comprise the vascular uveal coat of the eye. The ciliary body forms a ring along the inner wall of the globe and extends from the iris anteriorly to the ora serrata posteriorly as shown in Figure
1
A. It is predominantly made up of smooth muscle that is arranged in longitudinal radial and circular fashion. The ciliary body is composed of the ciliary muscle and ciliary processes. Ciliary processes are approximately 70 in number in humans and project inwards as radial ridges [
1
]. The ciliary body is highly vascular and supplied by the anterior ciliary and long posterior ciliary vessels [
2
,
3
]. The ciliary processes consist of a central core of connective tissue stroma which is covered by a double layered epithelium. The inner non-pigmented epithelial layer is in direct contact with the aqueous [
4
]. It is formed by a layer of columnar cells which contain numerous mitochondria, rough and smooth endoplasmic reticulum which is characteristic of metabolically active cells. The outer-pigmented epithelial cell layer is a layer of cuboidal cells which are abundant in melanosomes that are relatively poor in intracellular organelles. It lies between the non-pigmented epithelial layer and the connective tissue stroma [
1
].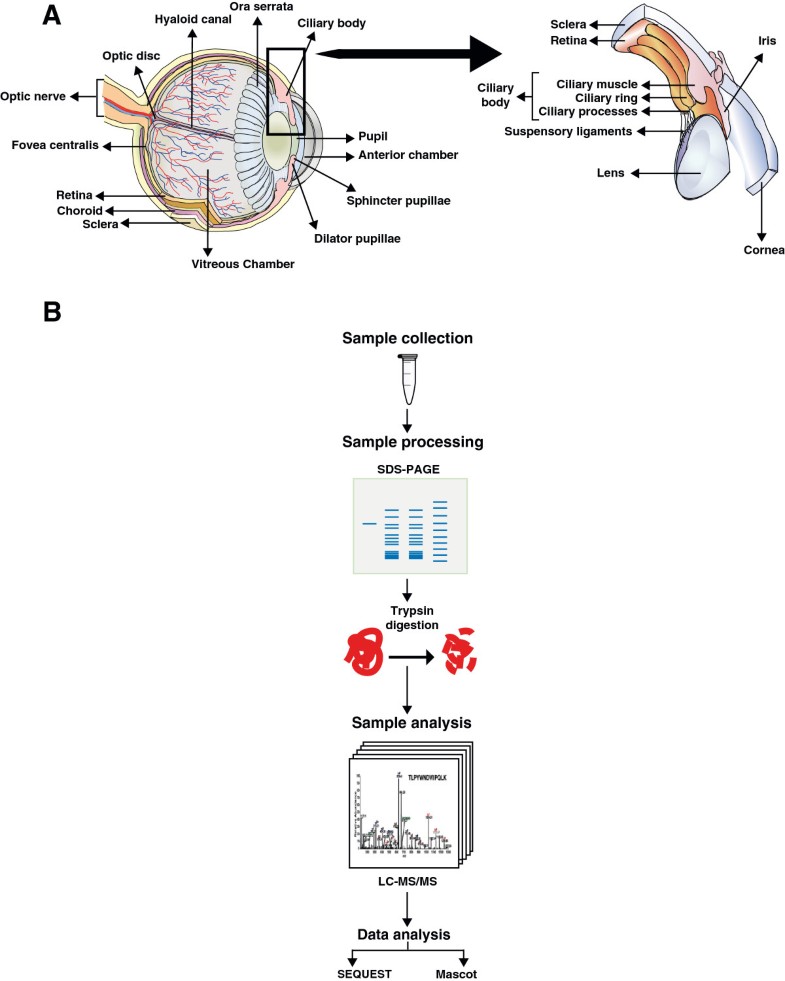 The non-pigmented epithelial layer of the ciliary body secretes aqueous humor by a process of active transport, through diffusion and ultrafiltration [5]. The aqueous humor bathes the avascular structures of the eye such as the crystalline lens, posterior surface of the cornea, the anterior vitreous and the trabecular meshwork before exiting the eye through the canal of Schlemm into the episcleral veins. A small fraction of the aqueous also exits the eye between the muscle bundles of the ciliary body to the supraciliary and suprachoroidal spaces, commonly called the uveoscleral pathway [5]. This constant flow of aqueous replenishes the nutrients required for these avascular tissues and carries away their metabolic wastes. The aqueous humor dynamics also helps to maintain the intraocular pressure of the eye that is essential for maintaining the optical and refractive properties of the eye [6, 7]. The ciliary muscles contract, the zonules relax and the lens becomes thicker for near vision while distant vision involves relaxation of the ciliary muscles, contraction of the zonules and thinning of the lens. The ciliary body functions are implicated in ophthalmic pathology such as open and closed angle glaucoma [8], due to a complex imbalance in aqueous humor production and drainage, cyclitis or inflammation of the ciliary body and presbyopia, which is characterized by a diminution of the ability of the eye to accommodate [9–11].
Identification of the protein constituents of tissues can lead to a better understanding of their normal physiology. Previous molecular analysis of the ciliary body has provided some insights into the expression profiles of the two ciliary epithelia. The majority of proteomic studies of the human ciliary body reported to date are based on immunohistochemistry, Western blot or immunofluorescence-based studies. Wu et al. identified nitric oxide synthase 1 neuronal (NOS1), NOS2 and NOS3 by Western blot and immunohistochemistry [12]. Flugel-Koch et al., identified tyrosine hydroxylase, neuropeptide Y, tachykinin, NOS1, solute carrier family 18 member 3, calbindin 2, calcitonin-related polypeptide alpha, 2,4-dienoyl CoA reductase 1 mitochondrial by immunohistochemical assays [13]. Pattwell et al., identified enolase 2, opticin (OPTC), S100 calcium binding protein B, vimentin and collagen type II alpha 1 (COL2A1) by immunofluorescence assays [14]. Although, proteomic approaches have been used to identify proteins in eye tissues such as vitreous, aqueous humor and retina, to the best of our knowledge, a comprehensive analysis of proteome of the ciliary body has not yet been carried out. In this study, we report a comprehensive catalogue of proteins expressed in the normal ciliary body and provide the subcellular localization, molecular function and biological processes associated with these proteins. This characterization of the ciliary body proteome from healthy individuals may serve as a valuable template to compare the ciliary body proteomic changes occurring in other sight-threatening pathological conditions such as glaucoma and macular degeneration.
Results and discussion
Proteomic analysis of the ciliary body samples was carried out by digestion of bands excised from an SDS-PAGE gel as illustrated in the Figure 1B. MS/MS analysis was carried out for 30 in-gel digested fractions on an LTQ-Orbitrap Velos ETD mass spectrometer. The corresponding MS data were searched using two different search algorithms – Mascot and SEQUEST - against the NCBI RefSeq human protein database 50 (N=33,832 proteins) with known contaminants. MS/MS spectra resulted in identification of 157,782 peptide-spectral matches (PSM) and these PSM were filtered for first rank assignment that passed 1% FDR threshold. In total 19,547 unique peptides sequences were identified and these peptides resulted in identification of 2,815 proteins. A complete list of proteins identified in the ciliary body is provided in Additional file 1: Table S1 along with unique number of peptides, spectrum count, sequence coverage, intensity based absolute quantification (iBAQ) score, subcellular localization, molecular function, biological process and domains/motifs. A non-redundant list of peptides identified from this study is provided in Additional file 2: Table S2.
Conclusions
The ciliary body is a specialized tissue, which has a major role in the formation of the blood-aqueous barrier. It performs many functions such as maintaining a transparent medium inside the eye, nourishing the avascular ocular tissues and maintaining the size and shape of the eye by regulating the intra ocular pressure. By virtue of the unique functions performed by the ciliary body, it is of interest to understand the proteomics profile of this tissue. Our study provides a high resolution mass spectrometric proteome analysis of the ciliary body perhaps identifying the largest set of proteins that appear to be specific to the ciliary body. The information from our study is likely to serve as a baseline for future studies aimed at studying ophthalmic disorders such as glaucoma, uveitis and presbyopia.
Abbreviations
LC-MS/MS:

Liquid chromatography-mass spectrometry
IOP:

Intraocular pressure
HPRD:

Human Protein Reference Database
OAG:

Open angle glaucoma
CAG:

Closed angle glaucoma
PSMs:

Peptide spectral match
NPCE:

Non-pigmented ciliary epithelial layer
PCE:

Pigmented ciliary epithelial layer
PSMs:

Peptide spectral match
MYH11:

Myosin-11
TPM1:

Tropomyosin alpha-1 chain
SLC15A2:

Solute carrier family 15 member 2
IPA:

Ingenuity Pathway Analysis.
Declarations
Acknowledgements
We thank the Department of Biotechnology (DBT) of the Government of India for research support to the Institute of Bioinformatics. Srinivas M. Srikanth and Gourev Dey are recipients of Junior Research Fellowship from University Grants Commission (UGC), India. Sneha M. Pinto is a recipient of Senior Research Fellowship from Council of Scientific and Industrial Research (CSIR), Government of India. Anil K. Madugundu is the recipient of BINC-Junior Research Fellowship from Department of Biotechnology (DBT), India. Harsha Gowda is a Wellcome Trust/DBT India Alliance Early Career Fellow. Dr. T. S. Keshava Prasad is the recipient of a research grant on "Development of Infrastructure and a Computational Framework for Analysis of Proteomic Data" from DBT. Akhilesh Pandey was partially funded for this project by a grant from National Institutes of Health Roadmap initiative U54 RR020839.
Authors' Affiliations
(1)
Institute of Bioinformatics, International Technology Park, Bangalore, India
(2)
Department of Biotechnology, Kuvempu University, Shankaraghatta, Shimoga, India
(3)
Amrita School of Biotechnology, Amrita Vishwa Vidyapeetham, Kollam, India
(4)
Vittala International Institute Of Ophthalmology, Bangalore, India
(5)
Manipal University, Manipal, Karnataka, India
(6)
Research Unit for Immunoinformatics, RIKEN Research Center for Allergy and Immunology, RIKEN Yokohama Institute, Kanagawa, Japan
(7)
Centre of Excellence in Bioinformatics, Bioinformatics Centre, School of Life Sciences, Pondicherry University, Puducherry, India
(8)
Johns Hopkins University School of Medicine, Baltimore, USA
(9)
Department of Cell Biology, Johns Hopkins School of Medicine, Baltimore, USA
(10)
Department of Ophthalmology, Johns Hopkins School of Medicine, Baltimore, USA
(11)
McKusick-Nathans Institute of Genetic Medicine, Departments of Biological Chemistry, Oncology and Pathology, Johns Hopkins University School of Medicine, Baltimore, USA
Copyright
© Goel et al.; licensee BioMed Central Ltd. 2013
This article is published under license to BioMed Central Ltd. This is an Open Access article distributed under the terms of the Creative Commons Attribution License (http://creativecommons.org/licenses/by/2.0), which permits unrestricted use, distribution, and reproduction in any medium, provided the original work is properly cited.