Basics and recent advances of two dimensional- polyacrylamide gel electrophoresis
Clinical Proteomics
2014
11:16
Received: 4 September 2013
Accepted: 20 March 2014
Published: 15 April 2014
Abstract
Gel- based proteomics is one of the most versatile methods for fractionating protein complexes. Among these methods, two dimensional- polyacrylamide gel electrophoresis (2-DE) represents a mainstay orthogonal approach, which is popularly used to simultaneously fractionate, identify, and quantify proteins when coupled with mass spectrometric identification or other immunological tests. Although 2-DE was first introduced more than three decades ago, several challenges and limitations to its utility still exist. This review discusses the principles of 2-DE as well as both recent methodological advances and new applications.
Keywords
Two dimensional electrophoresisAdvancesBasicsReview
Introduction
Two dimensional polyacrylamide gel electrophoresis (2-DE) is considered a powerful tool used for separation and fractionation of complex protein mixtures from tissues, cells, or other biological samples. It allows separation of hundreds to thousands of proteins in one gel. This technique became more popular and comprehensive after the prime advances and high resolution 2-DE modification [1]. Actually, the modification established by O'Farrell allowed 2-DE technique to resolve up to 5000 protein- representing spots in an even 2 dimensional distribution and enabled precise separation of protein spots with high accuracy [2].
2-DE technique is deemed to be one of the leading powers in the expansion of proteomics and protein studies. It provides the first step for further analysis of the differentially regulated protein spots using mass spectrometry and western blotting. The use of 2-DE has been effectively defined in many cases to disclose both physiological mechanisms and proteins associated with clinical pathologies that can aid in the discovery of biomarkers.
Outlines on the types and current availability of 2-DE
First dimension electrophoresis
The first dimension electrophoresis can be performed using ionic substances, which reacts as acid or base and is termed as carrier ampholyte pH gradient. It could be blended and optimized for wide or more restricted pH ranges. Several techniques for IEF could be applied in the first dimension electrophoresis as explained below.
Conventional IEF
The conventional method of IEF depends on the carrier ampholyte where proteins migrate in a solution media until reaching the equilibrium state when its net charge equals to zero. Proteins that are in a pH region below its isoelectric point (pI) will be positively charged and will migrate towards the cathode. As it migrates through a gradient of increasing pH, however, the protein's overall charge will decrease until the protein reaches the pH region that corresponds to its pI. At this point, the migration ceases. As a result, the proteins become focused into sharp stationary bands with each protein positioned at a point in the pH gradient corresponding to its pI. [2]. Although this conventional method is easy to prepare and do not require much casting equipments, it has a main disadvantage as the ampholytes have some susceptibility to flow towards cathode and this gradient flow usually causes a reduction in the reproducibility.
Immobilized pH gradient (IPG)
Immobilized pH gradient strip (IPG) is an integrated part of polyacrylamide gel matrix fixed on a plastic strip. Co-polymerization of a set of non-amphoteric buffers with different chemical properties is included [
2
,
42
]. A ready- made IPG strips are available with different lengths and pI. Usually, short length IPG strips are used for fast screening while longer one for maximal and comprehensive analysis. Various models of 2- DE gels are shown in Figure
3
. A commercial pre-casted acrylamide gel matrix co-polymerized with a pH gradient on a plastic strip results in a stable pH value over the traditional ampholyte method. It has an ability to avoid cationic accumulation and to produce a better-focused protein with less smearing [
2
,
42
]. There are many other advantages of using IPG strips over ampholytes such as reduced cathodic drift, higher mechanical strength as the strips are casted on a plastic backing that minimizing gel breakage, and higher protein loading capacity due to the sample loading method [
17
,
43
].

Non-equilibrium pH gel electrophoresis (NEPHGE)
Non-equilibrium pH gel electrophoresis (NEPHGE) technique was developed to resolve proteins with basic to extremely high pI (7.0 to 11.0) [1, 44] that cannot be separated by the traditional method. In contrast, IPG method allows the protein molecules to move at different rate across the gel based on the charge and the volt hours setting that determine speed pattern and reproducibility [2]. A previous study comparing IPG and NEPHGE techniques showed that protein loss was higher in IPG-based method, especially for basic proteins. They found the reproducibility of spots was slightly better in NEPHGE-based method. About half of detected basic protein spots were not reproducible by IPG-based 2-DE, whereas NEPHGE-based method showed excellent reproducibility in the basic gel zone. The reproducibility of acidic proteins was similar in both methods [45].
Second dimension SDS PAGE
This step separates proteins based on their molecular weight using a vertical electrophoretic device with either Laemmli buffer [46] or Tris- Tricine buffer [47]. Instead of loading protein sample within the wells, the first dimension-rehydrated strip is carefully placed on the top of the SDS-PAGE and sealed with agarose. Further technical details are described by Magdeldin et al.[4].
The state of art in the analysis of 2-DE images
2- DE software analysis
Most of the software analysis workflow starts with either spot detection or image alignment. Examples of currently available software are listed in Table
1
. In general, spot detection software (ex. PDQuest and Proteomweaver) sometimes lead to missing some data because of the mismatching error resulted due to shifted spots between gels or spots overlapping. Furthermore, false positive spots are commonly detected due to staining artifacts especially with poor technical skills. To avoid these problems, an alternative processing workflow approaches relay on aligning gel images before processing were developed (ex. Progenesis samespot and Decodon). This method increased the precision of spot detection, raised the accuracy of spot overlying, enabled alignment of several replicates, and saved time. In a practical example illustrated in Figure
4
, same gel images of 2 groups were analyzed using PDquest and progenesis samespot software that utilize initial step of spot detection or image alignment, respectively. The result showed inaccuracy of spot detection in the analysis starting with spot detection by detecting many false positive spots. On contrary, precise spots were recognized when gel images where aligned first. This improvement in gel image processing reduced variability between gels and increased the power to detect differentially expressed spots with less effort of manual editing. The key steps of the workflow of most of these automated methods are as following; image quality control, image alignment, spot detection, automatic analysis, editing of spot detection, review the results, statistical analysis, calibration of spots against either a molecular weight ladder or known proteins, spot picking, and importing the protein ID (Figure
5
). These automated methods are helpful for gel identification particularly in the quantitative proteomics. They primarily analyze biomarkers by quantifying individual proteins and showing the separation between one or more protein spots on a scanned image of a 2-DE gel. Additionally, they match spots between gels of similar samples. For example, proteomic differences between early and advanced stages of an illness. However, any change or failure in the spot identification may affect the peptide identification in the downstream proteomics as explained later in the challenges section (Challenges in the analysis of the 2-DE images).
Table 1
Current available commercial software used for 2-DE gel image analysis
| Company | Software name | Image analysis approach |
| --- | --- | --- |
| Bio-Rad | PDQuest | Spot detection first |
| | Proteomweaver | Spot detection first |
| GE Healthcare | Decyder 2D | Spot detection first |
| GE Healthcare | ImageMaster 2D platinum | Spot detection first |
| GeneBio | Melanie | Spot detection first |
| Applied Maths NV | BioNumerics | Spot detection first |
| Ludesi | Redfin | Spot detection first |
| Ludesi | Gel IQ* | Spot detection first |
| Compugen | Z3 (discontinued) | Image alignment first |
| Decodon | Delta2D | Image alignment first |
| Nonlinear dynamics | Progenesis SameSpots | Image alignment first |
| Sourceforge | Flicker* | Image alignment first |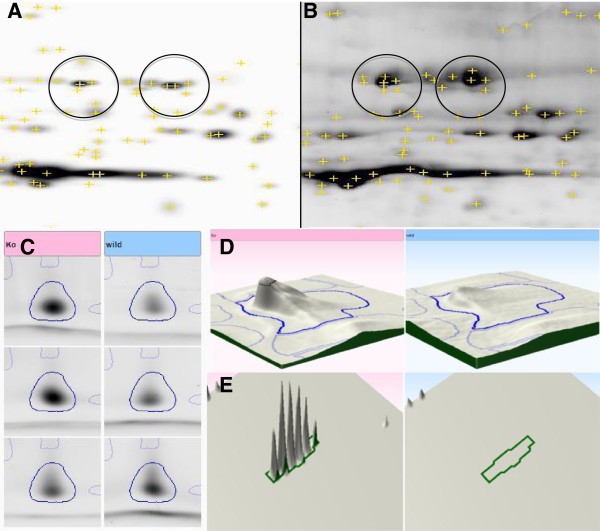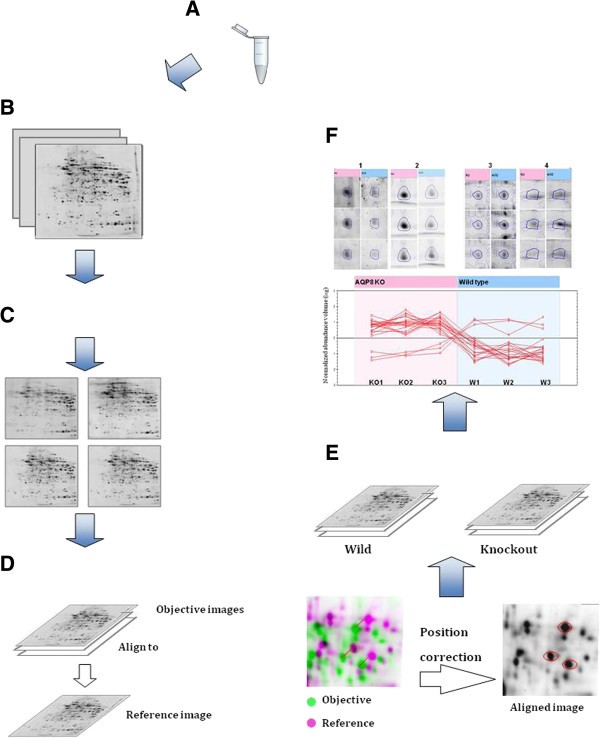 2-DE proteome databases
2-DE proteome database websites allow experimental data to be uploaded and disseminated for public. They also help to generate reference maps for normal and diseased cases. These databases display annotated and representative reference map for a variety of cell and tissue types. A list of publicly available databases is found at http://www.expasy.org/ch2d-index.html. The Swiss- 2D PAGE website highlights the World- 2D PAGE database server, the World-2 D PAGE Portal, and the World- 2D PAGE repository, which displays the publication links of each reference map and the experimental condition [48]. So far, it is one of the largest databases for 2-DE. It contains more than 36 different 2-DE reference proteome maps from 7 different species including S. Cerevisiae and E. coli as well as many different human tissues and organs such as kidney and liver [48]. The database annotates protein identification, protein patho-physiological function, physicochemical properties (MW and pl, amino acid composition and peptide masses), and citations. Recently, many other 2-DE reference maps are available online e.g. (http://web.mpiib-berlin.mpg.de/cgi-bin/pdbs/2d-page/extern/index.cgi and http://www.gelbank.anl.gov).
Challenges in the analysis of the 2-DE images
Although bioinformatics software made 2-DE gel analysis much easier, several challenges remain in order to achieve a non-biased, accurate, and reproducible result.
Before software analysis
The key role in a successful computer- based gel imaging relays on the quality of the raw image itself. Therefore, it is necessary to use a high resolution scanner. CCD cameras are time consuming but could be used for several stained gels. laser scanners are more accurate and generate high resolution raw images. In general, image resolution of 100–150 in TIEF format is enough for quantitative analysis. In comparative analysis, it is essential to reproduce replicate gels with minimal noise and background for correct quantification. Certain filters might be applied with care for gel optimization prior to analysis.
During the process of analysis
Differences in the spot positions between gels are major challenging issue in image processing because they impede accurate spot matching. The key step for overcoming spot shifting is to perform a gel image alignment in which certain landmark spots are first pinned between all gels. In a next step, the software tries to align other spots based on these landmarks. However, in some cases, complete alignment could not be obtained if the two patterns are so different. Therefore, in such case, one should avoid excessive manual interventions because this would worsen the reliability of the image control and the reproducibility of the operation between different users. Because of the quantification and the normalization of the spot intensity, one should realize that the relationship between the original protein quantity in the sample and the measured spot intensity is affected by various intervening factors. For example, sample loss occurring during the IEF or while transferring to the second dimension. Given the biochemical diversity of the protein molecules, it is expected that there are some proteins with a nonlinear relation between concentration and intensity. Therefore, one should expect to obtain relatively quantitative results referring to same protein species coming from different samples.
Concluding remarks
Protein separation is a core part of proteomics analysis. 2-DE is a basic and fundamental procedure to fractionate and visualize protein complexes. The 2-DE method is superior to visualize each protein as a spot that can be interpreted by its abundance, location, or even its presence or absence. This visual- based result is in most cases confident. Meanwhile, 2-DE procedures need experience and optimization of skills. With the ongoing development and modifications applied to this sophisticated technique, 2-DE is expected to be less labor, more informative, sensitive, rapid, and easily applied.
Declarations
Acknowledgments
This work was supported by JSPS (Japan Society for Promotion of Science) Grant-in-Aid for scientific research (B) to SM (#23790933) from Ministry of Education, Culture, Sports, Science and Technology of Japan. The funders had no role in the decision to publish, or preparation of the article.
Authors' Affiliations
(1)
Department of Structural Pathology, Institute of Nephrology, Graduate School of Medical and Dental Sciences, Niigata University, Niigata, Japan
(2)
Department of Physiology, Faculty of Veterinary Medicine, Suez Canal University, Ismailia, Egypt
(3)
Department of Microbiology and Immunology, Faculty of Pharmacy, Suez Canal University, Ismailia, Egypt
(4)
UKM Medical Centre, Kuala Lumpur, Malaysia
Copyright
© Magdeldin et al.; licensee BioMed Central Ltd. 2014
This article is published under license to BioMed Central Ltd. This is an Open Access article distributed under the terms of the Creative Commons Attribution License (http://creativecommons.org/licenses/by/2.0), which permits unrestricted use, distribution, and reproduction in any medium, provided the original work is properly credited. The Creative Commons Public Domain Dedication waiver (http://creativecommons.org/publicdomain/zero/1.0/) applies to the data made available in this article, unless otherwise stated.