O-GlcNAc profiling: from proteins to proteomes
Clinical Proteomics
2014
11:8
Received: 30 September 2013
Accepted: 1 February 2014
Published: 5 March 2014
Abstract
O-linked β-D-N-acetylglucosamine (O-GlcNAc) modification (O-GlcNAcylation) onto serine and threonine residues of proteins is an important post-translational modification (PTM), which is involved in many crucial biological processes including transcription, translation, proteasomal degradation, and signal transduction. Aberrant protein O-GlcNAcylation is directly linked to the pathological progression of chronic diseases including diabetes, cancer, and neurodegenerative disorders. Identification, site mapping, and quantification of O-GlcNAc proteins are a prerequisite to decipher their functions. In this review, we mainly focus on technological developments regarding O-GlcNAc protein profiling. Specifically, on one hand, we show how these techniques are being used for the comprehensive characterization of certain targeted proteins in which biologists are most interested. On the other hand, we present several newly developed approaches for O-GlcNAcomic profiling as well as how they provide us with a systems perspective to crosstalk amongst different PTMs and complicated biological events. Promising technical trends are also highlighted to evoke more efforts by diverse laboratories, which would further expand our understanding of the physiological and pathological roles of protein O-GlcNAcylation in chronic diseases.
Keywords
O-GlcNAcO-GlcNAcomeO-GlcNAcomicsProteomicsEnrichmentSite mappingQuantificationMass spectrometry
Background
Cellular proteins are often decorated by multiple post-translational modifications (PTMs) including glycosylation, phosphorylation, methylation, acetylation, and ubiquitylation (a detailed list of more than 400 different PTMs can be seen athttp://www.uniprot.org/docs/ptmlist), which exert various biological functions in numerous processes. Among all the PTMs, glycosylation, which generally involves the covalent attachment of glycans to Ser/Thr/Asn residues, is predicted to occur in 80-90% of all extracellular and nucleocytoplasmic proteins and thus it is probably the most abundant and structurally diverse[1, 2]. The classical glycosylation mainly occurs between Asn-linked (N-linked) or Ser/Thr-linked ('mucin-type' O-linked) oligosaccharides and cell surface and secreted proteins. However, O-linked β-D-N-acetylglucosamine modification (O-GlcNAcylation) is, 1) a monosaccharide modification onto hydroxyl groups of Ser/Thr residues, which is not elongated to complex sugar structures[3, 4]; 2) almost exclusively on proteins localized in the nucleus, cytoplasm, and mitochondria[5]; 3) reversible and highly dynamic, which is controlled by two enzymes: O-GlcNAc transferase (OGT) (which catalyzes the addition of O-GlcNAc to Ser/Thr residues[6–8]) and β-D-N-acetylglucosaminidase (O-GlcNAcase) (which removes O-GlcNAc[9]); 4) interplayed with other PTMs (e.g., reciprocal/competitive with phosphorylation[10–12]); and 5) most common in metazoans.
Since its discovery in the early 1980s[3, 4], O-GlcNAcylation has been found to play key roles in many fundamental biological processes including epigenetic regulation, transcription, translation, proteasomal degradation, signal transduction, stress response, and homeostasis, thus O-GlcNAc regulates diverse physiological events like circadian rhythm, memory formation, and learning[13–16]. Of particular note, since the synthesis of UDP-GlcNAc, the substrate donor for OGT, is tightly regulated by multiple major metabolic pathways in cells (i.e., glucose metabolism, amino acid metabolism, fatty acid metabolism and nucleotide metabolism) via the hexosamine biosynthesis pathway[17], O-GlcNAc is a sensitive nutrient sensor which links cellular metabolism with versatile signaling pathways. Therefore, it is not surprising that aberrant protein O-GlcNAcylation underlies the etiology and pathological progression of a number of chronic metabolic diseases including diabetes[18, 19], cancer[20–22], and neurodegenerative disorders[23, 24].
Even though numerous techniques have been developed during the last several decades to study O-GlcNAc (see excellent reviews[25–30]), there is still a strong demand for highly efficient tools, including methods for O-GlcNAc site mapping and production of site-specific antibodies. The development of facile and robust approaches for the assignment of the O-GlcNAc sites on proteins, a prerequisite for site-specific O-GlcNAc functional assays, would greatly facilitate probing the important roles of protein O-GlcNAcylation in various cellular processes. In this review, we mainly cover two aspects, 1) describe the classical and modern methods for the identification and site mapping of targeted O-GlcNAc proteins from a historic view, which would be helpful to biologists working on certain protein(s) and 2) delineate some newly developed enrichment and quantification techniques coupling with mass spectrometry (MS) for large-scale O-GlcNAc profiling from a proteomics view, which should offer a systems perspective for the function of O-GlcNAcylation on multiple proteins in physiology and diseases. Moreover, a discussion on future technology development for O-GlcNAc protein profiling is provided.
Conclusions and perspectives
Over the first two decades since its discovery, O-GlcNAcylation was determined to be on ~500 proteins[142]. With the introduction of new enrichment techniques and advanced mass spectrometers, the number of O-GlcNAcylated proteins has been increased to >4000 (a detailed list is being compiled). More importantly, numerous O-GlcNAc sites have also been mapped, which not only significantly facilitate deciphering the crucial roles of O-GlcNAc on individual proteins in various biological processes, but also provide us a much deeper insight on how this modification closely interplays with many other PTMs (especially phosphorylation) in complex molecular networks.
However, we are still in the early stage of
O
-GlcNAc profiling, compared to the rapidly maturing characterization of other PTMs (e.g., phosphorylation,
N
-glycosylation, lysine acetylation, and ubiquitination) for which a handful of highly efficient and robust tools are available. Although many enrichment methods have been developed for
O
-GlcNAc proteins/peptides (Figure
2
), they are still far from being applicable routinely to the analysis of samples, especially for complex ones when large-scale comparative
O
-GlcNAcomic profiling is desired. Moreover, the newly designed mass spectrometers (especially the ETD-equipped ones) are not widely available to most labs, which hampers the site-oriented
O
-GlcNAc functional assays. In addition, there are limited software and algorithms specifically designed for
O
-GlcNAc site prediction as well as mass spectrometry data mining.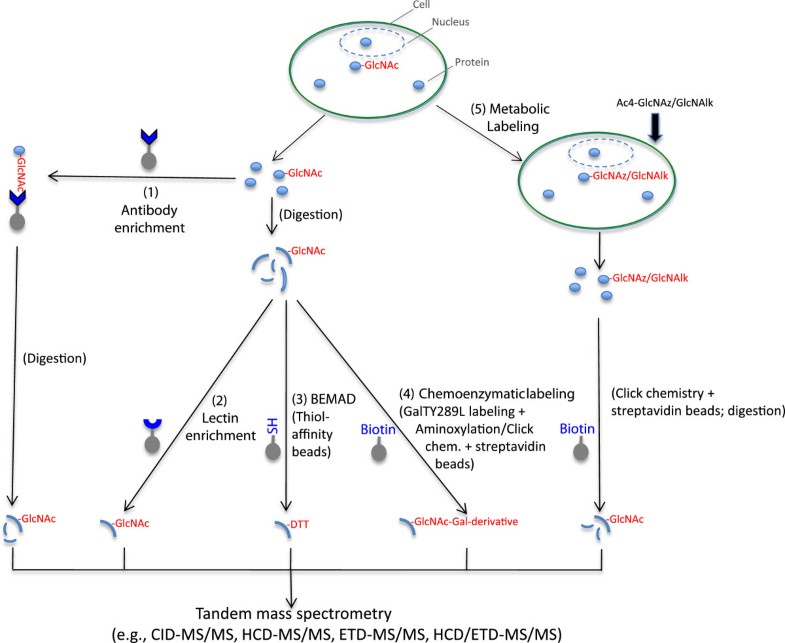 Considering the extremely important roles O-GlcNAc plays, the complete repertoire of O-GlcNAcylated proteins as well as their specific sites must be defined. To this end, several aspects about improving O-GlcNAc profiling are anticipated. 1) Refinement of current enrichment techniques and development of novel ones should still be a topic of intense interest. 2) How to make full use of the capacity and improve the performance of mass spectrometers for O-GlcNAc detection remains to be addressed. The combination of different fragmentation modes (e.g., HCD plus ETD) would be a powerful tool for improved O-GlcNAc identification and site mapping. Moreover, the potential for ETD in applications, such as multiple reaction monitoring (MRM) for O-GlcNAc peptides and top-down characterization for O-GlcNAc proteins, should be explored. 3) Quantitative proteomic techniques should be further adopted in more O-GlcNAc studies. 4) Designing novel bioinformatic tools for O-GlcNAc research will be another goal in the future. 5) The development of a large number of site-specific antibodies, as are now available for protein phosphorylation, will be critical to the rapid advancement of this field by biologists. Taken together, as with other PTMs, technology integration will hasten the maturation of diverse methods for O-GlcNAc profiling. We are sure that the technology-driven O-GlcNAcomics will boom soon, which would profoundly contribute to the elucidation of crucial functions of protein O-GlcNAcylation in versatile physiological and pathological conditions and to a systems perspective of molecular mechanisms in biological networks.
Abbreviations
O-GlcNAc O:

-linked β-D-N-acetylglucosamine
O-GlcNAcylation O:

-linked β-D-N-acetylglucosamine addition
UDP-GlcNAc:

Uridine diphospho-N-acetylgluco-samine
OGT:

O-GlcNAc transferase
O-GlcNAcase β-N:

-acetyl-glucosaminidase
PTM:

Post-translational modification
PNGase F:

Peptide: N-glycosidase F
GalT:

β1-4-galactosyltransferase
SDS-PAGE:

SDS-polyacrylamide gel electrophoresis
HPLC:

High performance liquid chromatography
MS:

Mass spectrometry
CID:

Collision induced dissociation
HCD:

High-energy collision dissociation
ETD:

Electron transfer dissociation
WGA:

Wheat germ agglutinin
BEMAD:

Beta elimination/Michael addition with dithiothreitol
SILAC:

Stable isotope labeling of amino acids in cell culture
iTRAQ:

Isobaric tag for relative and absolute quantitation.
Declarations
Acknowledgments
The authors especially thank Dr. Kaoru Sakabe for critical reading and suggestions of this manuscript and the whole Hart laboratory. They would also like to acknowledge Dr. Natasha E. Zachara for insightful discussions.
Authors' Affiliations
(1)
Department of Biological Chemistry, The Johns Hopkins University School of Medicine, Baltimore, USA
Copyright
© Ma and Hart; licensee BioMed Central Ltd. 2014
This article is published under license to BioMed Central Ltd. This is an Open Access article distributed under the terms of the Creative Commons Attribution License (http://creativecommons.org/licenses/by/2.0), which permits unrestricted use, distribution, and reproduction in any medium, provided the original work is properly credited. The Creative Commons Public Domain Dedication waiver (http://creativecommons.org/publicdomain/zero/1.0/) applies to the data made available in this article, unless otherwise stated.