Protein signatures of molecular pathways in non-small cell lung carcinoma (NSCLC): comparison of glycoproteomics and global proteomics
Clinical Proteomics
2017
14:31
Received: 26 December 2016
Accepted: 5 August 2017
Published: 15 August 2017
Abstract
Background
Non-small cell lung carcinoma (NSCLC) remains the leading cause of cancer deaths in the United States. More than half of NSCLC patients have clinical presentations with locally advanced or metastatic disease at the time of diagnosis. The large-scale genomic analysis of NSCLC has demonstrated that molecular alterations are substantially different between adenocarcinoma (ADC) and squamous cell carcinoma (SqCC). However, a comprehensive analysis of proteins and glycoproteins in different subtypes of NSCLC using advanced proteomic approaches has not yet been conducted.
Methods
We applied mass spectrometry (MS) technology featuring proteomics and glycoproteomics to analyze six primary lung SqCCs and eleven ADCs, and we compared the expression level of proteins and glycoproteins in tumors using quantitative proteomics. Glycoproteins were analyzed by enrichment using a chemoenzymatic method, solid-phase extraction of glycopeptides, and quantified by iTRAQ-LC–MS/MS. Protein quantitation was further annotated via Ingenuity Pathway Analysis.
Results
Over 6000 global proteins and 480 glycoproteins were quantitatively identified in both SqCC and ADC. ADC proteins (8337) consisted of enzymes (22.11%), kinases (5.11%), transcription factors (6.85%), transporters (6.79%), and peptidases (3.30%). SqCC proteins (6967) had a very similar distribution. The identified glycoproteins, in order of relative abundance, included membrane (42%) and extracellular matrix (>33%) glycoproteins. Oncogene-coded proteins (82) increased 1.5-fold among 1047 oncogenes identified in ADC, while 124 proteins from SqCC were up-regulated in tumor tissues among a total of 827 proteins. We identified 680 and 563 tumor suppressor genes from ADC and SqCC, respectively.
Conclusion
Our systematic analysis of proteins and glycoproteins demonstrates changes of protein and glycoprotein relative abundance in SqCC (TP53, U2AF1, and RXR) and in ADC (SMARCA4, NOTCH1, PTEN, and MST1). Among them, eleven glycoproteins were upregulated in both ADC and SqCC. Two glycoproteins (ELANE and IGFBP3) were only increased in SqCC, and six glycoproteins (ACAN, LAMC2, THBS1, LTBP1, PSAP and COL1A2) were increased in ADC. Ingenuity Pathway Analysis (IPA) showed that several crucial pathways were activated in SqCC and ADC tumor tissues.
Keywords
ProteinsGlycoproteinsNon-small cell lung carcinoma (NSCLC)Squamous carcinoma (SqCC)Adenocarcinoma (ADC)Signaling pathwayMass spectrometry (MS)
Background
Comprehensive genomic profiling of primary non-small cell lung carcinoma (NSCLC) has identified mutations of multiple driver genes, especially oncogenes such as AKT1, ALK, EGFR, ERBB2, KRAS, MET, NRAS, BRAF, PIK3CA, RET, ROS1, and others [1, 2]. Based on these findings, several clinical trials have been implemented that target these molecular pathways [3–5]. For example, therapeutic treatments targeting tumors with EGFR alterations and ALK gene rearrangements have shown improved outcomes [6–8]. However, NSCLC continues to be the leading cause of cancer mortality, accounting for approximately 27% of all cancer deaths in the United States. In 2017 alone, it is estimated that over 222,500 patients will be diagnosed with NSCLC and more than 155,870 patients will die from the disease [9]. Thus, it is critical to understand the role of molecular alterations in NSCLC development, progression, and treatment susceptibility.
NSCLC is the most common morphological type of lung carcinoma (85–90%) and it consists of two major histological subtypes (ADC: 40–50%; SqCC: 25–30%) and several other subtypes (5%) [10]. The development and progression of a NSCLC tumor is a multistep process. NSCLC tumors are characterized by aberrant gene and protein expression, which subsequently leads to phenotypic transformation of cells, initiation and progression of the tumor [6–8, 11]. The large-scale genomic analysis of NSCLC has demonstrated that molecular alterations are substantially different between ADC and SqCC [12, 13]. The alterations of EGFR and rearrangement of ALK in ADC are detected in approximately 25% of tumors; loss-of-function mutations in LKB1/STK11, NF1, CDKN2A, SMARCA4 and KEAP1 are also identified [12]. In contrast, SqCCs rarely harbor EGFR mutations or AKL rearrangement; instead, SqCCs demonstrate alterations in other genes such as RTKs, DDR2 and FGGRs, and inactivated CDKN2A, PTEN, KEAP1, MLL2, HLA-A, NFE2L2, NOTCH1 and RB1 [13].
The complex alterations of genetic pathways are associated with aberrant cellular protein expression patterns. More than 50% of cellular proteins, including secreted, cell surface and intracellular proteins, are glycosylated. Protein glycosylation is known to play critical roles in the regulation of cell growth, differentiation and migration [14–16]. Glycoprotein expression may directly reflect the physiological and/or pathological status of the lung parenchyma. Glycosylation in NSCLCs occurs on diverse molecules and involves a large number of genetic and proteomic alterations; thus a single protein biomarker is unlikely to be representative of all NSCLCs. The profiling of proteins and glycoproteins is particularly important for understanding NSCLC biology and identifying candidate molecular markers.
Over the past decade, efforts have been devoted to the identification of protein biomarker candidates in the various forms of lung cancers. For example, more than six hundred articles have been published for predictive lung cancer biomarkers, while over three hundreds publications are related to prognostic biomarkers [17–20]. These observations demonstrate the general effort and interest in the discovery of potential protein biomarkers for detecting and monitoring the progression of lung cancer. Most of these studies used non-human tissues or body fluid to study genes or proteins; however, few have been focused on the glycoproteins in human lung tissues using hydrazide chemistry to specifically study protein glycosylation. Additionally, the molecular complexity of NSCLC is still not fully understood.
In this study, we focused on profiling the protein and glycoprotein signatures of primary lung SqCC and ADC using advanced proteomics and MS technology, and we compared glycoproteins and proteins in tumor tissues using Ingenuity Pathway Analysis (IPA) (http://www.ingenuity.com/products/ipa). The purposes of this study are: (1) to profile proteins and glycoproteins in two NSCLC subtypes; (2) to understand their potential roles in molecular signaling pathways; (3) to correlate signature proteins with cellular biological functions and tumor biological pathways, essentially for the discovery of molecular markers; and (4) to provide information regarding the potential indirect molecular targets in several well-known genetic pathways.
Conclusion
Profiling of global proteins and glycoproteins could be an effective method for understanding molecular signaling pathways and the regulation of proteins that are associated with diseases and biological functions. Signature proteins may be useful for predicting disease onset and progression. Based on quantitative analysis of those proteins, we identified the corresponding genes that contain the instructions for producing the proteins. However, studies on genes alone do not necessarily shed light on how their proteins are post-translationally modified. Glycoprotein analysis can investigate beyond genomics and provide information regarding protein expression. Therefore, quantitative analysis of proteins and glycoproteins is essential for discovery of molecular markers.
In this study, the global proteins and glycoproteins from 18 lung tissues were analyzed. Over 6000 global proteins were quantified from both SqCC and ADC, and about 480 glycoproteins were identified from these tissues. Several proteins including enzymes, kinases, or transcription factors were overexpressed in SqCC and ADC, suggesting their common contributions in those subtypes. Many proteins are exclusively regulated in SqCC or ADC: ENPP2, LAMB2, TAB1, GPNMB, and FOXK1 are associated with ADC, while NFκBIE, EDF1, HMGA1, and LPXN are exclusively overexpressed in SqCC. Therefore, it is possible to use these genes to identify upstream regulators for targeted treatment, whereas the overexpressed glycoproteins can be further studied in lung bronchoalveolar lavage (BAL) for discovery of biomarkers for early detection. Further validation of these proteins can be used to identify a molecular panel for lung cancer, thereby increasing the accuracy of early stage detection.
Assuming that the protein level is proportional to gene expression, IPA analysis could determine the upstream regulators and identify the disease-associated proteins in NSCLC [21]. We have used protein data to correlate gene expression to the biological functions and diseases. Bioinformatics analysis of proteins and glycoproteins explores the essential relationship among proteins and glycoproteins.
Experimental procedures
Materials and reagents
All chemicals and reagents were purchased from Sigma Aldrich (St Louis, MO) unless specified otherwise. C18 Solid-phase extraction (SPE) cartridges (3 cc Vac Cartridge, 500 mg sorbent) were from Waters Corporation (Milford, MA). Peptide-N-glycosidase F (PNGase F) and denaturing buffer (10×) were from New England Biolabs (Ipswich, MA). Trypsin gold was from Promega (Madison, WI). Quantitative analysis of peptides was performed on a Q-Exactive mass spectrometer (Thermo Scientific, Waltham, MA). Human lung tissues were collected from the Department of Pathology with the approval of the Institutional Review Board of the Johns Hopkins University.
Tissue protein analysis
A total of 18 patient tissues were collected, consisting of one normal tissue from a healthy control (HC), 3 cases of SqCC and tumor-matched benign tissues, and 6 cases of ADC and 5 tumor-matched benign tissues (Table
2
). The collected tissues were dissected using razor blade before being sonicated in an ice-cooled bath for protein extraction [lysis buffer (1 mL): 1 M NH
4
HCO
3
in the presence of 8 M urea] (Fig.
7
). Protein concentration was measured by BCA assay (Pierce, Rockford, IL). Four mg proteins from each tissue were added to the final volume of 1 mL (8 M urea in 1 M NH
4
HCO
3
, pH 8.0) [
63
,
66
]. Proteins were reduced in 10 mM of tris (2-carboxyethyl) phosphine hydrochloride (TCEP; 20 µL at 0.5 M) at 37°C for 1 h, followed by alkylation using 40 mM of iodoacetamide (IAA) for 1 h at room temperature in the dark. The same amount of TCEP (40 mM) was added to quench excess IAA. Samples were then diluted fivefold (volume) with DI water to contain 1.6 M urea for tryptic digestion (37°C, overnight; trypsin vs. protein = 1:40). The acidified peptides (~0.1% TFA) were cleanup by C18 SPE column (5×, 0.1% TFA) and eluted using 60% ACN (500 µL × 2, 0.1% TFA). Peptide concentration was determined using BCA and peptides were stored at −80 °C prior to use.
Table 2
Experimental design of tissues from human lung
| List | ID | Age | Sex | Pathology | iTRAQ | iTRAQ group | Set | Position | Type | Dimension (mm) | Size of tumor |
| --- | --- | --- | --- | --- | --- | --- | --- | --- | --- | --- | --- |
| 1 | HC | 68 | M | HC | | 115 | 1 | | | | |
| 2 | SqCC.N1 | 80 | M | N | 114 | 116 | 1 | LUL | SqCC | 6.5 | pT2b |
| 3 | SqCC.C1 | | | C | | 117 | 1 | | | | |
| 4 | SqCC.N2 | 82 | M | N | 114 | 115 | 2 | UL | SqCC | 3 | pT1b |
| 5 | SqCC.C2 | | | C | | 116 | 2 | | | | |
| 6 | SqCC.N2 | 74 | M | N | 114 | 117 | 2 | RUL | SqCC | 4.7 | pT2a |
| 7 | SqCC.C3 | | | C | | 115 | 3 | | | | |
| 8 | ADC.N1 | 79 | F | N | | 116 | 3 | RUL | ADC | 1.6 | pT1 |
| 9 | ADC.C1 | | | C | | 117 | 3 | | | | |
| 10 | ADC.N2 | 74 | F | N | 114 | 115 | 4 | RUL | ADC | 3 | pT1b |
| 11 | ADC.C2 | | | C | | 116 | 4 | | | | |
| 12 | ADC.N3 | 65 | M | N | | 117 | 4 | RLL | ADC | 3.3 | pT2a |
| 13 | ADC.C3 | | | C | | 115 | 5 | | | | |
| 14 | ADC.N4 | 71 | M | N | 114 | 116 | 5 | RLL | ADC | 5.2 | pT2b |
| 15 | ADC.C4 | | | C | | 117 | 5 | | | | |
| 16 | ADC.C5 | | | C | | 116 | 6 | | | | |
| 17 | ADC.N5 | 61 | F | N | 114 | 115 | 6 | RLL | ADC | 4.5 | pT3 |
| 18 | ADC.C6 | | | C | | 117 | 6 | | | | |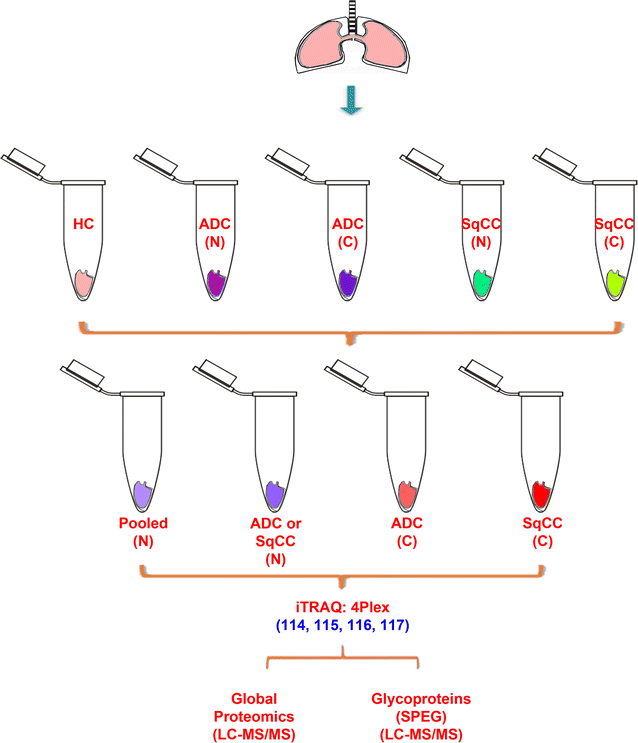 One mg peptides from each sample were labeled with 4-plex iTRAQ (AB SCIEX, Framingham, MA). The iTRAQ labeled peptides were pooled for C18 cleanup and 10% (~200 µg) of the pooled peptides was chromatographically separated to 24 fractions by basic reverse phase liquid chromatography (bRPLC) on an 1220 Infinity LC system with a Zorbax Extend-C18 analytical column (1.8 µm particles, 4.6 × 100 mm; Agilent Technologies, Inc., CA) [66]. The remaining iTRAQ-peptides (~1.8 mg) were enriched for glycosite-containing peptides using hydrazide chemistry [67]. One µg of the enriched formerly glycosite-containing peptides were analyzed by LC–MS (Additional file 7, Additional file 8, Additional file 9, Additional file 10).
MS data analysis
The MS/MS spectra were directly searched using the SEQUEST search engine [Thermo Proteome Discoverer 1.4.0.288 (PD)] against the NCBI Homo Sapiens database (Download, August 2014). Carbamidomethylation of cysteine residues was set as a fixed modification; oxidation of methionine and deamidation (only for SPEG) of asparagine were set as variable modifications; N-termini and lysines were set as iTRAQ 4-plex fixed modifications. Maximum missed cleavages using trypsin were set to 2 and the minimum peptide length was 7. The search filter was set as follows: at least 1 peptide per protein and 1% FDR for PSM cutoff. The precursor mass tolerance was 10 ppm, while the mass tolerance of fragment ions was 20 ppm. Quantitation was performed using reporter ion intensity of peptides in PD. The filter for PD was set as at least one peptide per protein and high confidence. The quantification was performed using unique peptides; all unique peptides for the same proteins were taken into account for the comparison of protein abundance. Normalization was conducted using the median intensity of all reporter ions. The ratio (iTRAQ) was determined by comparing with the control (114). We used 1.5-fold change (upregulation) or 0.67-fold change (downregulation) as a cut off for biological significance based on the standard deviation and the normalized peptide ratios.
Declarations
Authors' contributions
S.Y. and L.C. conducted the experiments, S.Y. analyzed the data and prepared the manuscript, S.Y. and H.Z. designed the experiments and wrote the paper, and D.W.C. and H.Z. supported this study. All authors read and approved the final manuscript.
Acknowledgements
We are grateful to Dr. Punit Shah and Dr. Stefani N. Thomas from Johns Hopkins for help with the mass spectrometry analysis. Dr. Stefani N. Thomas assisted with the manuscript preparation.
Competing interests
The authors declare that they have no competing interests.
Consent for publication
This manuscript is solely submitted to Clinical Proteomics for consideration.
Ethics approval and consent to participate
Samples were collected from Johns Hopkins Hospital with the approval of the Institutional Review Board of Johns Hopkins University and pooled for use.
Funding
This work was supported by the National Institutes of Health, National Cancer Institute, the Early Detection Research Network (EDRN, U01CA152813), the Clinical Proteomic Tumor Analysis Consortium (CPTAC, U24CA160036), National Heart Lung and Blood Institute, Programs of Excellence in Glycosciences (PEG, P01HL107153), and the National Institute of Allergy and Infectious Diseases (R21AI122382), by Maryland Innovation Initiative (MII), and by The Patrick C. Walsh Prostate Cancer Research Fund.
Publisher's Note
Springer Nature remains neutral with regard to jurisdictional claims in published maps and institutional affiliations.
Open AccessThis article is distributed under the terms of the Creative Commons Attribution 4.0 International License (http://creativecommons.org/licenses/by/4.0/), which permits unrestricted use, distribution, and reproduction in any medium, provided you give appropriate credit to the original author(s) and the source, provide a link to the Creative Commons license, and indicate if changes were made. The Creative Commons Public Domain Dedication waiver (http://creativecommons.org/publicdomain/zero/1.0/) applies to the data made available in this article, unless otherwise stated.
Authors' Affiliations
(1)
Department of Pathology, Johns Hopkins Medicine, Baltimore, USA