Glycoproteomic and glycomic databases
Clinical Proteomics
2014
11:15
Received: 1 October 2013
Accepted: 20 February 2014
Published: 13 April 2014
Abstract
Protein glycosylation serves critical roles in the cellular and biological processes of many organisms. Aberrant glycosylation has been associated with many illnesses such as hereditary and chronic diseases like cancer, cardiovascular diseases, neurological disorders, and immunological disorders. Emerging mass spectrometry (MS) technologies that enable the high-throughput identification of glycoproteins and glycans have accelerated the analysis and made possible the creation of dynamic and expanding databases. Although glycosylation-related databases have been established by many laboratories and institutions, they are not yet widely known in the community. Our study reviews 15 different publicly available databases and identifies their key elements so that users can identify the most applicable platform for their analytical needs. These databases include biological information on the experimentally identified glycans and glycopeptides from various cells and organisms such as human, rat, mouse, fly and zebrafish. The features of these databases - 7 for glycoproteomic data, 6 for glycomic data, and 2 for glycan binding proteins are summarized including the enrichment techniques that are used for glycoproteome and glycan identification. Furthermore databases such as Unipep, GlycoFly, GlycoFish recently established by our group are introduced. The unique features of each database, such as the analytical methods used and bioinformatical tools available are summarized. This information will be a valuable resource for the glycobiology community as it presents the analytical methods and glycosylation related databases together in one compendium. It will also represent a step towards the desired long term goal of integrating the different databases of glycosylation in order to characterize and categorize glycoproteins and glycans better for biomedical research.
Keywords
GlycopeptideGlycosylation SiteGlycan StructureGlycan ProfileGlycan Type
Introduction
Glycosylation is a critical protein modification relevant to numerous physiological functions and cellular pathways. It is important for protein folding, signaling and stability in the circulatory system [1, 2]. Alterations in the glycosylation site occupancy or glycan structures of glycoproteins have been associated with hereditary and chronic diseases such as cancer, diabetes, cardiovascular, inflammatory, neurological and neuromuscular diseases [3–5]. Indeed, the fields of glycopathology and glycophysiology are providing a broader understanding of disease genesis and progression [6]. Furthermore, glycoproteins have been extensively studied for the discovery of disease associated modifications that can be used for both diagnosis and/or therapy for these diseases [4, 7].
Glycomics and glycoproteomics are two approaches used for the characterization of a specific cell, tissue or organ's glycoproteome and glycome from an extracted protein mixture in a specific state. The glycoproteome is the full composition of glycoproteins in a specific cell or tissue type, while the glycome is the full set of protein-bound sugar groups. Glycomics focuses on the study of glycan structure whereas glycoproteomics focuses on glycosylated proteins and glycosylation sites. In glycoproteomic analysis, glycosylated proteins are first enriched with proper analytical techniques and then analyzed by LC/MS/MS for protein and glycosylation site identification. In glycomic analysis, the glycan moiety is often released from the glycoprotein and analyzed by mass spectrometry separately or in combination with chromatographic techniques. The chromatographic techniques can provide additional glycan identification and as well as the retention time of each identification. In addition, glycopeptides containing glycosylation sites and attached glycans can be analyzed by mass spectrometry without the release of glycans, which allows the identification of the glycosylation site and the specific glycans attached to the glycosylation site [8]. Initial works [9, 10] and recent reviews have extensively discussed analytical techniques used for identification and quantification of both the glycome and glycoproteome [4, 11–15]. Programs have recently being initiated both to merge current methodologies for identification of glycans or glycoproteome from complex tissues or cells and to establish databases for the identified glycosylated proteins [16, 17]. Although many of the publicly available databases are dynamic and updated, they are not being used effectively because of a lack of common resources, websites, and public awareness. Collating all of these databases is critically important to the glycobiology community since data analysis is another key element in addition to analytical methods. This review summarizes the conventional methodologies used in glycoproteomic and glycomic studies and also assembles 15 different glycosylation related databases for the scientific community. Furthermore, this manuscript also introduces three glycoproteomic databases developed by our group: UniPep [18], GlycoFly [19] and GlycoFish [20].
Glycoproteomic databases
Glycoproteomics is an emerging field which provides qualitative and quantitative information on a large number of glycoproteins. Recent improvements in glycoprotein isolation methods, bioinformatics, and mass spectrometry techniques have stimulated the subfield of proteomics known as glycoproteomic research [21].
In order to identify glycoproteins in a biological sample, the glycosylated proteins are first enriched with analytical, affinity, or chemical techniques. Subsequently, the type of glycosylation is determined. There are two major classes of glycosylation N-glycosylation and O–glycosylation. With N-glycosylation, the glycan group is attached to usually N4 residues of asparagines, whereas in O-glycosylation, the glycan group attaches to the hydroxyl oxygen of serine or threonine residues of a glycoprotein.
Emerging mass spectrometry techniques have significantly improved glycoproteomic studies. After the glycopeptides are enriched with a specific method, they can be qualitatively or quantitatively analyzed by tandem mass spectrometry to identify a large set of glycoproteins. A variety of technologies such as hydrazide chemistry, lectin chromatography or bead-immobilized techniques have been used for comprehensive analysis of site-specific glycosylation [
22
–
26
]. Although there are organized and structured databases for the proteomes and genomes of organisms which are complementary to each other, there is an absence of a unified, structured database for glycoproteome and glycome of organisms. Fortunately, a number of groups have established dynamic, publicly available databases to share their glycoprotome data [
18
,
27
,
28
]. Below are two tables, Tables
1
and
2
, listing many of the databases concerned primarily with glycoproteomics and glycomics.
Table 1
Summary of glycoproteomic databases
Database

Type

Species

Method

Entries

Unipep

N-Glycosylated proteins and peptides

Homo sapiens

Hydrazide chemistry & Solid Phase Extraction, in-silico triptic digestion of IPI proteins, and prediction of NXS/T glycosylation site with proteotypic potential

2265

Glycofly

N-Glycosylated proteins and peptides

Drosophila melanogaster

Hydrazide chemistry and Solid Phase Extraction

740

Glycofish

N-Glycosylated proteins and peptides

Danio Rerio

Hydrazide chemistry and Solid Phase Extraction

269

GlycoSuiteDB

O-linked and N-linked Glycoproteins and glycans

Published glycoproteins with different methods

9436

GlycoProtDB

N2 and mouse tissues N-Glycoproteins

Caenorhabditis elegans

Lectin Concavilin A Chromatography

1465

Mus Musculus

O -GlycBase NetOGlyc

O and C-Glycosylated proteins

Combination of references

Data curation from literature and coupling ZFN gene targeting, SimpleCell and Lectin Chromatography

2413

3000

dbOGAP

O-GlcNAcylated proteins

Homo Sapiens

Curation from literature and SVM based prediction

798 (exp) 300 (pred)

Mus Musculus

Rattus Norvegicus

Drosophila Melanogaster

Xenopus Laevis
Table 2
Summary of glycomic databases
| Database | Type | Method |
| --- | --- | --- |
| (CFG) Glycan Structure DB | Glycan and glycan binding proteins | Glycan array screening, Glycan profiling |
| GlycoBase | N and O-linked glycan structures | HPLC based and MS based glycan analysis |
| GlycomeDB | Carbohydrate structures | Carbohyrate data from CFG , KEGG, BCSDB, Carbbank |
| GlycoGeneDB | GlycoGenes and mRNA expression | In-silico collection of cloned and characterized human glycogenes |
| Glycan Mass Spectral DB | N-and O-linked glycans, and glycolipid glycans | Glycan glycosidase digestion and analysis by HPLC with fluorescence or MSn analysis |
| Lectin Frontier Database | Glycan-lectin interactions | Frontal affinity chromatography with fluorescence detection |
Databases for Glycan-protein interactions
Glycan-Binding Proteins (GBP) such as antibodies, lectins, and receptors has been used for glycan recognition over many years. However, determination of specificities of GBPs required a large amount of the glycans and much labor-intensive preparation prior to the development of glycan microarray technology. Glycan microarray technology has since accelerated studies in glycomics since glycan binding specificities can be analyzed quantitatively in a short period of time using much smaller amounts of sample material [91].
The most widely used highthroughput method for glycan profiling are lectin microarrays, which can analyze multiple lectin-glycan interactions simultaneously [92–94]. Antibodies are also used in glycan microarrays since they can be specific to particular carbohydrate epitopes. Antigenic epitopes such as Lewis x and Sialyl Lewis A can be strongly recognized by specific monoclonal antibodies [73, 91, 95]. However, antibodies are usually unable to differentiate between O-glycans, N-glycans or glicolipids. They typically bind to their specific epitopes regardless of the glycan type [95]. The methods that are used in glycan microarrays and available databases are discussed below.
CFG
The Consortium for Functional Glycomics (CFG) group also has a Protein-Carbohydrate Interaction Core facility which applies two different methodologies for protein analysis and glycan recognition. Both microwell based and glass slide arrays similar to DNA microarrays are used to screen hundreds of glycans, lectins, antibodies and pathogenic proteins. Streptavidin-coated wells are covered with biotinylated synthetic or biological glycans to identify novel carbohydrate binding ligands. Moreover, glycan printing on the N-hydroxysuccinimide-reacted glass slide arrays is being used to expand number of possible glycan ligand targets. This technology also has an advantageous low signal to noise ratio [74].
The CFG database allows users to search through plate, printed and pathogen arrays for the specific analyte of interest. Numerous animal lectins such as C-type lectins, siglecs, galectins as well as plant lectins, pathogens, microbial lectins, antibodies, serum, cells and organisms are available under the analyte category. When the analyte of interest and array type are chosen, the website finds all the studies related to them. The primary glycan binding specificity, ligand site and any information related to this glycan binding protein are also provided in the database [96, 97].
Lf DB
The Lectin
Frontier
Database (L
f
DB) was established by JCGGDB and provides quantitative information on glycan-protein interactions. The binding specificity of each lectin to different glycans is variable and this affinity can be quantified in terms of an association constant (K
a
). Frontal affinity chromatography with fluorescence detection (FAC-FD) is a common method used to determine affinity constants since it produces reliable and reproducible data [
47
]. As shown in Figure
2
, Langmuir's adsorption principle is applied in this isocratic elution system.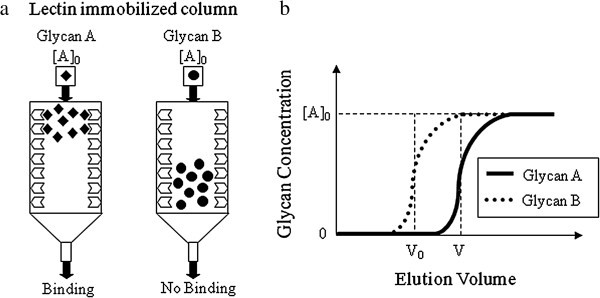 Pyridylaminated glycans (PA-glycans) in low concentrations can be loaded onto the lectin-immobilized column, and the binding specificity of a glycan calculated based on the change in the volumes as shown in the following equations.
Where Ka is the affinity constant, Bt is the effective lectin content, [A0] is the initial glycan concentration, and V-V0 is the difference between the initial glycan volume of the glycan of interest and a negative control [92].
In LfDB (http://jcggdb.jp/rcmg/glycodb/LectinSearch), a variety of lectin affinities towards glycans are available. Any lectin type or monosaccharide specificity can be searched. Once the glycan binding protein is found, all the information related to this protein and its Ka values toward different glycans can be obtained from this database [98].
Conclusion
Fifteen different glycomic and glycoproteomic related databases are described in the current study. These databases include more than 30,000 entries for experimentally identified or predicted glycans and glycopeptides. The structural information on the glycan or glycosite of these glycoproteins and hyperlinks to their references are also provided in these databases. Each of these databases has key features. For instance Unipep includes both experimentally proven glycoproteins and their glycosites and also in-silico predicted glycosites on human proteins. GlycoFly focuses on the N-glycosylated peptides of Drosophila melanogaster whereas GlycoFish provides the list of N-glycosites of zebrafish. O-GlycBase, dbOGAP are the specific databases for O-glycosylation and O-GlcNAcylation. CFG and EuroCarbDB are the two largest databases for carbohydrates whereas GlycoBase and GlcyomeDB databases include extensive information on the glycans. Furthermore databases such as CFG and LFDB provide information on the glycan-protein and lectin interactions. This review will be a useful resource for glycobiology studies and institutions searching for information on glycoproteins of interest. Furthermore, assembling the databases in this review and others will assist in the eventual formation of a single resource for glycomic and glycoproteomics high-throughput data. In the long term, the glycobiology community should strive to create a fully integrated and dynamic database that includes all the elements described in this review. One vision would be a database that has all the glycosylated proteins, indicating if they are O or N-glycosylated, and showing their O and N-glycosylation sites. We could then add additional functionalities to the database including all known glycan structures obtained at the designated glycosylation site together with specific glycosylation linkages. Of course, some of this data are not yet available, and thus there are additional experimental data and complementary bioinformatics that need to be obtained before a comprehensive glycomics database can become a reality.
Authors' Affiliations
(1)
Department of Chemical and Biomolecular Engineering, Johns Hopkins University, Baltimore, USA
(2)
Department of Pathology, Johns Hopkins University, Baltimore, USA
(3)
Department of Biochemistry and Molecular Biology, Johns Hopkins Bloomberg School of Public Health, Baltimore, USA
Copyright
© Baycin Hizal et al.; licensee BioMed Central Ltd. 2014
This article is published under license to BioMed Central Ltd. This is an Open Access article distributed under the terms of the Creative Commons Attribution License (http://creativecommons.org/licenses/by/2.0), which permits unrestricted use, distribution, and reproduction in any medium, provided the original work is properly credited. The Creative Commons Public Domain Dedication waiver (http://creativecommons.org/publicdomain/zero/1.0/) applies to the data made available in this article, unless otherwise stated.