Proteomic profiling of retinoblastoma by high resolution mass spectrometry
Clinical Proteomics
2016
13:29
Received: 10 January 2016
Accepted: 23 September 2016
Published: 26 October 2016
Abstract
Background
Retinoblastoma is an ocular neoplastic cancer caused primarily due to the mutation/deletion of RB1 gene. Due to the rarity of the disease very limited information is available on molecular changes in primary retinoblastoma. High throughput analysis of retinoblastoma transcriptome is available however the proteomic landscape of retinoblastoma remains unexplored. In the present study we used high resolution mass spectrometry-based quantitative proteomics to identify proteins associated with pathogenesis of retinoblastoma.
Methods
We used five pooled normal retina and five pooled retinoblastoma tissues to prepare tissue lysates. Equivalent amount of proteins from each group was trypsin digested and labeled with iTRAQ tags. The samples were analyzed on Orbitrap Velos mass spectrometer. We further validated few of the differentially expressed proteins by immunohistochemistry on primary tumors.
Results
We identified and quantified a total of 3587 proteins in retinoblastoma when compared with normal adult retina. In total, we identified 899 proteins that were differentially expressed in retinoblastoma with a fold change of ≥2 of which 402 proteins were upregulated and 497 were down regulated. Insulin growth factor 2 mRNA binding protein 1 (IGF2BP1), chromogranin A, fetuin A (ASHG), Rac GTPase-activating protein 1 and midkine that were found to be overexpressed in retinoblastoma were further confirmed by immunohistochemistry by staining 15 independent retinoblastoma tissue sections. We further verified the effect of IGF2BP1 on cell proliferation and migration capability of a retinoblastoma cell line using knockdown studies.
Conclusions
In the present study mass spectrometry-based quantitative proteomic approach was applied to identify proteins differentially expressed in retinoblastoma tumor. This study identified the mitochondrial dysfunction and lipid metabolism pathways as the major pathways to be deregulated in retinoblastoma. Further knockdown studies of IGF2BP1 in retinoblastoma cell lines revealed it as a prospective therapeutic target for retinoblastoma.
Keywords
RetinoblastomaNormal RetinaHuman Protein Reference DatabasesiRNA Treated CellKnockdown Study
Background
Retinoblastoma (RB) is an intraocular cancer found in children and its incidence is approximately estimated to be 1 in 20,000 live births [1] and widely known to affect children under 5 years but also rarely reported in adults. It occurs due to the inactivation of both alleles of retinoblastoma (RB1) gene located at the 13q14 region of chromosome 13 [2, 3]. Abnormality/loss of RB1 gene initiates retinoma and genomic instability which primarily leads to RB [4]. These gene mutations of Rb1 when occur in germinal cells results in germinal RB (hereditary) and when the mutations are restricted to somatic cells lead to sporadic RB (non-hereditary). There are very few protein expression profiling studies on RB. In our previous study, we compared RB primary tumor with that of control retina using a two-dimensional (2DE) electrophoresis and mass spectrometry approach. We identified 27 differentially expressed proteins of which 16 were up-regulated and 11 were downregulated [5]. We could only probe a small number of relatively abundant proteins in our 2DE based proteomics approach. The gel free differential protein expression profiling using iTRAQ based quantitative proteomics strategy has emerged as a viable alternative to 2DE based proteomic approach [6]. This strategy coupled with highly sensitive mass spectrometers allows for proteomicprofiling of thousands of proteins in an experiment.
Isobaric tags for relative and absolute quantitation (iTRAQ) is a method which labels primary amines in peptides and offers multiplexing capability [7]. The approach relies on isobaric tags which upon fragmentation in the MS/MS gives rise to unique reporter ions. We used 4-plex iTRAQ reagents that yield reporter ions at m/z 114,115,116 and 117, [8]. Reporter ion intensities provide a measure of differential abundance of peptides that can be used to deduce differences in protein expression levels across multiplexed samples. In the present study, we report the first comprehensive proteomic signature using high resolution LC–MS/MS for comparative screening of RB.
Methods
Sample collection
The present study was conducted at Medical research and Vision research foundation, Sankara Nethralaya, India and was approved by the institutional ethics board. Control retina was collected from C.U. SHAH eye bank, Sankara Nethralaya in the age group of 18–28 years from the donated eye globes for corneal transplantation and were without known concomitant Ocular diseases. Tumor tissues were collected with informed consent. When the enucleated eye globe was sent for histopathological examination, a part of the tumor was collected for proteomic study and the other part was used for histopathological studies (Additional file 1: Table S1). The collected tumors were snap frozen in liquid nitrogen and transferred to −80 °C until used for proteomic analyses.
The tissues were thawed on ice, resuspended in lysis buffer (0.5 % SDS buffer) and sonicated on ice for 2–3 cycles. The samples were centrifuged at 12,000 rpm for 10 min at 4 °C. The supernatants were collected and stored at −80 °C until further use. For proteomic analysis, equal amount of protein from normal retinas (n = 5) was pooled and compared with a pooled RB samples (n = 5).
iTRAQ labeling
Isobaric tags for relative and absolute quantitation (iTRAQ) labeling was performed as per the manufacturer's protocol. Briefly, 100 µg of pooled retina and tumor proteins were incubated with reducing agent [tris (2-carboxyethyl) phosphine] at 60 °C for 60 min. Methylsulfenylation of cysteine residues was carried out using cysteine blocking reagent (methyl methanethiosulfonate) for 10 min at room temperature as per manufacturer's protocol. Tryptic digestion was performed overnight at 37 °C in sequencing grade trypsin (Promega, San Luis Obispo, CA, USA). In order to maintain a technical replicate, tryptic digests of normal retina was split in equal halves and labeled with iTRAQ reagents yielding reporter ions at 114 and 115 m/z. Similarly, tryptic digests from RB sample were split in equal halves and labeled with iTRAQ reagents yielding reporter ions at 116 and 117 m/z. All the samples were pooled, vacuum dried and stored at −20 °C until further use.
SCX fractionation
The labeled peptides were reconstituted in 1 mL of solvent A [5 mM KH2PO4, 25 % acetonitrile (ACN), pH 2.7] and separated using Agilent 1200 series offline HPLC. Peptide fractionation was carried out using strong cation exchange chromatography. Peptides were eluted using a linear gradient of solvent B (350 mM of potassium chloride in solvent A) at a flow rate of 250 µL/min for 50 min. Consecutive fractions with relatively less peptides (based on UV absorbance at 280 nm) were pooled and a total of 18 fractions were prepared for LC–MS/MS analysis. The peptides were vacuum dried and reconstituted in 0.1 % trifluoroacetic acid (TFA). The samples were desalted using C18 zip tips before LC–MS/MS analysis.
LC–MS/MS analysis
LC–MS/MS analysis was carried out on LTQ-Orbitrap Velos mass spectrometer (Thermo Scientific, Bremen, Germany) interfaced with proxeon Easy nanoLC system. The peptide samples were enriched on a trap column (75 µm × 2 cm) at a flow rate of 3 µL/min and resolved on an analytical column (75 µm × 10 cm) at a flow rate of 350 nL/min. These were eluted by using a linear gradient of 7–30 % of solvent B (90 % ACN and 0.1 % formic acid) for 100 min. The MS analysis was performed on Orbitrap mass analyzer in a data dependent manner with full scans acquired at a mass resolution of 60,000 at 400 m/z. 20 most intense precursor ions were chosen for fragmentation in each cycle. MS/MS fragmentation was carried out using high energy collision dissociation with 41 % normalized collision energy at a mass resolution of 15,000 at 400 m/z. The isolation window was set to 2 m/z. The precursor ions that were fragmented were dynamically excluded for 45 s. Full scans were acquired with AGC target value of 100,000 and for FT MS/MS it was set at 50,000 and maximum accumulation time was 300 and 200 ms, respectively. The lock mass was enabled for accurate mass measurement.
Protein identification and quantitation
The obtained MS data was analyzed using Proteome Discoverer (version 1.3). The peptide search work flow includes spectrum selector followed by reporter ion quantitation (Fig.
1
). The spectra were searched using MASCOT and SEQUEST search algorithm against NCBI RefSeq database version 65 containing 34,454 proteins. The search parameters included trypsin as the enzyme with one missed cleavage allowed, methylsulfenylation of cysteine, iTRAQ modifications at N-terminus of peptide and lysine as static modifications. Oxidation of methionine was set as dynamic modification. Precursor and fragment mass tolerance was set at 20 ppm and 0.1 Da, respectively. The protein and peptide data were extracted using high peptide confidence and top one peptide rank filters. The false discovery rate (FDR) was calculated by searching the peptide sequences against a decoy database and cut off of <1 % was used for identified peptides.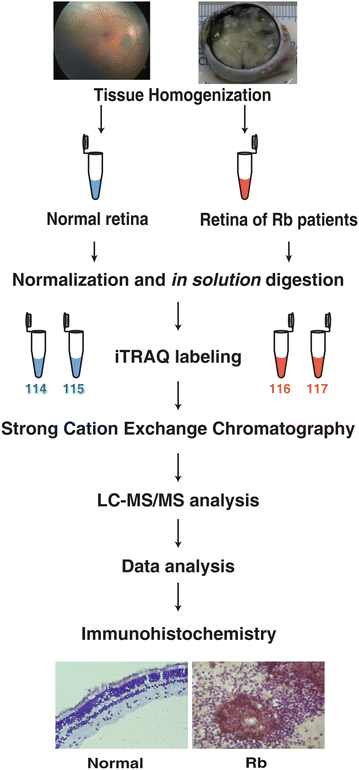 Bioinformatic analysis
Bioinformatic analysis and annotations of the obtained protein list was carried out based on their localization, biological process and molecular function as per human protein reference database (HPRD) [9], which is in compliance with the gene ontology standards. Pathway analysis was performed by ingenuity pathway analysis (Ingenuity Systems, Redwood City, CA, USA).
Immunohistochemistry
A select set of differentially expressed proteins in RB were validated in individual tumor tissues (n = 15). Immunohistochemical labeling (IHC) of CHGA, AHSG, IGF2BP1 RACGAP1 and MDK was performed on paraffin wax embedded tumor sections. Deparaffinization and antigen retrieval was followed as described previously [5]. The antibodies and their dilutions are as follows: anti-CHGA polyclonal antibody at 1:25, polyclonal antibody at 1:10, anti-AHSG polyclonal antibody at 1:25, anti-RACGAP1 polyclonal antibody at 1:25 anti-IGF2BP1 polyclonal antibody at 1:25, anti-MDK polyclonal antibody at 1:150 for IHC applications. All the antibodies were purchased from Pierce antibodies and raised in rabbit against human proteins. Staining for all the five proteins were observed with anti-rabbit IgG-Poly-HRP using the NovoLink Max Polymer (Leica biosystems, Germany) detection system according to the manufacturer's protocol. The protein expression was calculated and the tumors were grouped into Group I (1–33 %), Group II (34–67 %), Group III (68–100 %) based on their staining intensities. The intensity was given '–' as negative, rank '±' for dull and rank '+' for intense staining. Overall distribution and staining pattern of the tissues was ranked from 0 to 6 that were obtained by multiplying the group and the staining intensity. The staining intensities were ranked one for negative, ranked two for dull and ranked three for intense staining (Additional file 1: Table S2).
Cell culture
RB cell line Y79 was obtained from Riken Bio Resource center (Japan). Y79 cells were cultured in ATCC modified RPMI 1640 (Invitrogen, USA) media containing sodium pyruvate supplemented with 10 % fetal bovine serum (FBS) (Invitrogen, USA) at 37 °C in 5 % CO2 humidified incubator.
mRNA knockdown studies
For evaluating the role of IGF2BP1 over expressed protein in tumor progression, siRNA based knock down study of IGF2BP1 protein was performed in Y79 RB cell line. The siRNA was delivered into the cells using Lipofectamine 2000 (Invitrogen, USA) according to the manufacturer's protocol. The IGF2BP1 siRNA (5′ CCGGGAGCAGACCAGGCAA3′) was obtained from Dharmacon, Thermo Scientific, Pittsburg, PA, USA. Transfections were performed in 50 pm/µL of IGF2BP1 siRNA and scrambled siRNA. The cells were seeded 24 h prior to the experiment and were incubated for 48 h post transfection. The cells were collected at 3000 rpm for 10 min at 4 °C. The collected cells were used for the downstream processes involving western blot and real-time PCR.
Real-time PCR
Total RNA was isolated using Trizol reagent (Invitrogen, USA). cDNA synthesis was carried out using high capacity reverse transcriptase kit (Applied Biosystems, USA) as per the manufacturer's protocol. Ct values for the target genes were calculated and normalized against GAPDH housekeeping gene. The primers used for the real-time PCR were IGF2BP1 FP 5′ TAGTACCAAGAGACCAGACCC 3′ RP 5′ GATTTCTGCCCGTTGTTGTC 3′ GAPDH FP 5′ GCCAAGGTCATCCATGACAAC 3′ RP 5′ GTCCACCACCCTGTTGCTGTA 3′. The fold changes of the genes were expressed in the log2 relative units. The PCR products were detected using ABI PRISM 7500 detection system and analysis was done on ABI PRISM 7500 SDS software (Applied Biosystems, USA).
Western blot analysis
For western blot analysis, the IGF2BP1siRNA was transfected into Y79 as previously described. The cells were collected and washed twice with PBS. The washed cells were re-suspended in RIPA buffer (R 0278, Sigma, USA). The lysed cells were spun at 12,000 rpm for 5 min at 4 °C. Protein estimation was carried out using BCA reagent (Thermo Scientific, USA) as per the manufacturer's protocol. Equal amount of protein (50 µg) was resolved using polyacrylamide gel electrophoresis and transferred on to a nitrocellulose membrane. The membrane was incubated with IGF2BP1 primary antibody at 4 °C overnight. The membrane was washed and probed with mouse anti-rabbit (Sigma Aldrich, USA) secondary antibody for 2 h at room temperature. After the incubation time, the membrane was developed with TMB H2O2 (Bangalore Genei, India), scanned and documented. The membrane was stripped with stripping solution and re-probed with β-actin primary antibody (Sigma Aldrich, USA). The membrane was washed twice with PBS and probed with rabbit anti-mouse (Sigma Aldrich, USA) secondary antibody for 2 h. The membrane was developed with TMB H2O2, scanned and documented.
Proliferation assay
3-(4,5-Dimethylthiazol-2-yl)-2, 5-diphenyltetrazolium bromide (MTT) assay was performed to evaluate the percentage of viable cells in the siRNA treated cells. Briefly, the cells were transfected with the siRNA and incubated for 48 h. Post incubation, the cells were replaced with 10 % of MTT in serum containing media and incubated for 4 h at 37 °C. The formazan crystals were confirmed, dissolved in DMSO and absorbance was read at 570 nm using Spectramax M5 spectrophotometer (Molecular devices, USA). Data was expressed as mean ± SD of 3 independent experiments and each experiment was done in triplicates.
Wound healing assay
To evaluate the migration of Y79 cells, wound healing assay was performed. The cells were seeded 1 day prior to the treatment with siRNA in a poly-l-lysine coated plate. The cells were transfected with siRNA and a wound was created with a tip. The cells were documented at 0 h and incubated for 24 h and again documented to assess the migration of cells using Axio Vision phase contrast microscope.
Data availability
The mass spectrometry proteomics data have been deposited to the ProteomeXchange Consortium [10] via the PRIDE partner repository with the dataset identifier PXD002774.
Results and discussion
We have analyzed the total proteome of RB isolated from the pooled clinical samples which reduces the individual tumor variation and leads to increase in confidence of target molecule identification. The clinicopathological features of the tumours used in the proteomic study include samples below 4 years (Additional file
1
: Table S1). We performed iTRAQ labeling and LC–MS/MS to generate the differentially expressed proteins. We identified 3671 and quantified 3587 proteins, out of which, 899 proteins were differentially expressed with a fold change of ≥2 (Additional file
2
). These 899 (402 up-regulated and 497 down-regulated) differentially expressed proteins were taken for further analysis. Differentially expressed proteins include spleen tyrosine kinase (SYK), stathmin1 (STMN1) and vimentin (VIM) that have been previously reported to be overexpressed in RB [
5
,
11
]. In addition, we identified several novel proteins and validated CHGA, AHSG IGF2BP1 and RACGAP1 that were previously unreported in RB by IHC. Representative MS/MS spectra of differentially expressed proteins are shown in Figs.
2
,
3
.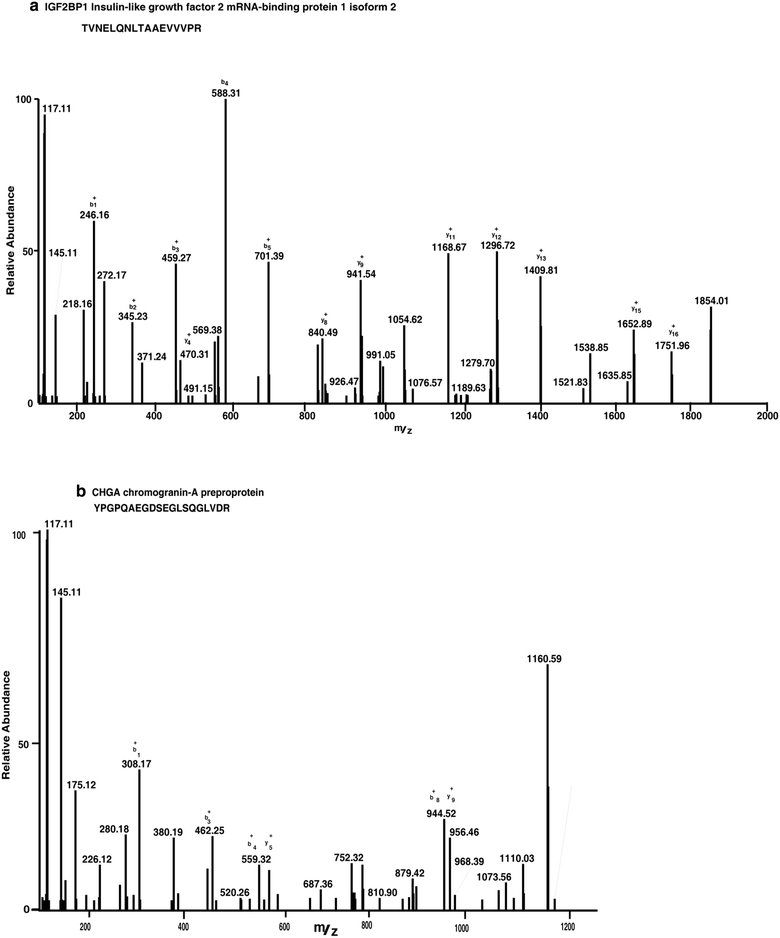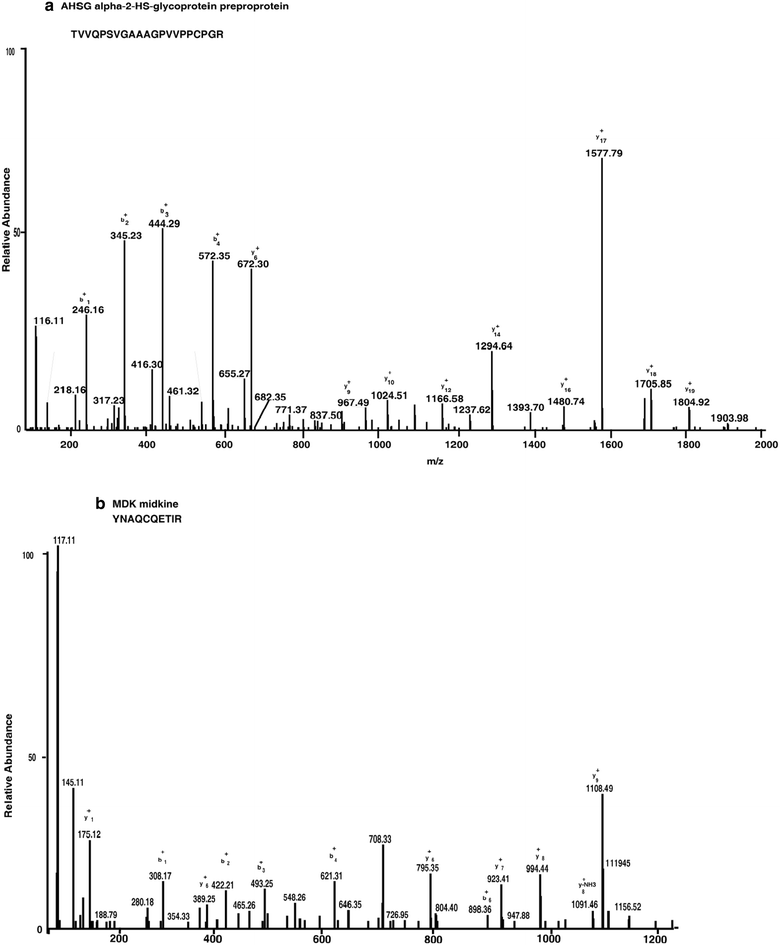 Conclusions
This is the first comprehensive report of proteomic profile of RB tumor. The proteomic profile offered insights into proteins involved in tumor proliferation which were not reported previously. Functional validation of IGF2BP1 demonstrated its role in cancer cell proliferation/migration and offers a putative novel therapeutic target molecule for RB.
Abbreviations
RB:

retinoblastoma
IGF2BP1:

insulin growth factor 2 mRNA binding protein 1
CHGA:

chromogranin A
AHSG:

fetuin A
RACGAP1:

Rac GTPase-activating protein 1
MDK:

midkine
IHC:

immunohistochemistry
Declarations
Authors' contributions
SE, HG and SK conceived the idea and designed the study. RD, UK, TSKP, SK, AP, HG, SE designed the experiments and prepared the manuscript. RD, KG, GS and SR performed the experiments. VK and PR provided the RB samples for the experiments. RD, KG, GS, AK performed the data analysis. All authors read and approved the final manuscript.
Acknowledgements
This work was supported by Department of Biotechnology under program support for research on retinoblastoma Grant No. BT/01/CEIB/11/V/16.
Competing interests
The authors declare that they have no competing interests.
Ethics approval and consent to participate
The present study was approved by the Ethical board of the Vision Research Foundation, Chennai with Ethics No. 247-2011-P. The concent and approval to use the samples for research was obtained from the parents/guardians of the patient.
Open AccessThis article is distributed under the terms of the Creative Commons Attribution 4.0 International License (http://creativecommons.org/licenses/by/4.0/), which permits unrestricted use, distribution, and reproduction in any medium, provided you give appropriate credit to the original author(s) and the source, provide a link to the Creative Commons license, and indicate if changes were made. The Creative Commons Public Domain Dedication waiver (http://creativecommons.org/publicdomain/zero/1.0/) applies to the data made available in this article, unless otherwise stated.
Authors' Affiliations
(1)
Department of Ocular Pathology, Vision Research Foundation, Sankara Nethralaya, Chennai, India
(2)
Department of Nano-Biotechnology, Vision Research Foundation, Sankara Nethralaya, Chennai, India
(3)
Shri Bhagwan Mahavir Vitreoretinal Services and Ocular Oncology Services, Medical Research Foundation, Sankara Nethralaya, Chennai, India
(4)
Institute of Bioinformatics, International Technology Park, Bangalore, India
(5)
Centre for Nanotechnology and Advanced Biomaterials, Shanmugha Arts, Science, Technology and Research Academy University, Tanjore, India
(6)
McKusick-Nathans Institute of Genetic Medicine, Johns Hopkins University School of Medicine, Baltimore, USA
(7)
Department of Pathology, Johns Hopkins University School of Medicine, Baltimore, USA
(8)
Department of Oncology, Johns Hopkins University School of Medicine, Baltimore, USA
(9)
Department of Biological Chemistry, Johns Hopkins University School of Medicine, Baltimore, USA